"He's An Idiot, He's a Fool": Teary Eyed Dennis Rodman Stormed Off a Live Interview Due to Overwhelming Questions in 1998
Published 11/22/2022, 2:10 PM EST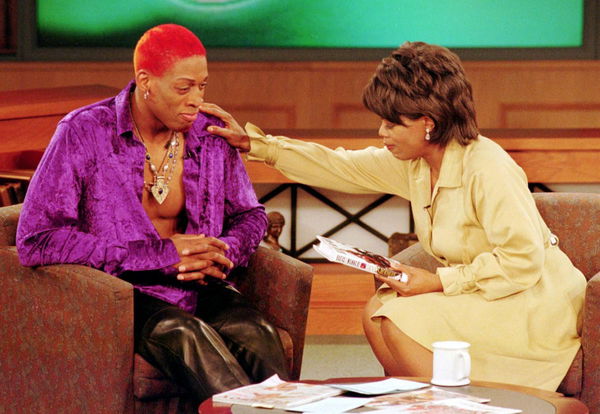 For most of his Hall of Fame career, Dennis Rodman played the rebellious 'Bad Boy' role that made him a polarizing figure. However, as the famous saying goes, there is always more to what meets the eye. This holds especially true in Rodman's unfortunate descent into public enemy no.1. Behind all his off-the-court antics and over-the-top personality, Rodman had a very real human side to him.
Dennis Rodman had a dominant run in the NBA, winning 5x NBA championships and several individual accolades. An impressive all-time career combined with his enigmatic personality made him one of the most polarizing figures in the league. Not many tried getting behind the clouds of his 'Bad Boy' persona. However, the ones who did found a misunderstood Hall of Famer with a marred reputation.
ADVERTISEMENT
Article continues below this ad
Teary-eyed Dennis Rodman once stormed out of an interview
At the height of his Hall of Fame career, Dennis Rodman contributed to the dynastic Chicago Bulls of the late 90s. By winning 3x championships alongside Michael Jordan and Scottie Pippen, Rodman cemented himself among the greats. However, controversies around his questionable actions clouded the judgment of millions of fans and media members. In an interview during the 1998 NBA finals, Rodman finally had had enough.
The Worm had sat down with sportscaster Jim Gray during the 1998 NBA finals. When asked whether he was 'finished' after the season, Rodman shed light on the harsh reality of his unfortunate reputation. The seven time rebounding champion admitted that his marred reputation made it really difficult for him to continue playing in the NBA with his head held high. He harped on how the fans and media have collectively spread a misconstrued narrative of him.
Rodman stated, "Everyone wants to downgrade Dennis Rodman and make him look like he's not…he's like a fool, he's an idiot." Following the heartfelt admission, Gray unapologetically charged the Bulls legend with the implication that the adverse treatment from fans was an outcome of his rebellious and uncontrolled behavior. After heeding all the attacks from Gray, Rodman, who initially tried to defend himself, let his emotions take over. Tear-eyed and overwhelmed, he stormed out of the interview. 
ADVERTISEMENT
Article continues below this ad
The interview occurred during the 'Last dance' of the Chicago Bulls. The writing was clear on the wall; the Bulls would never be the same after that season. Similarly, Rodman's future was also up in the arms. In the interview, Rodman's reserved demeanor gave away his qualms regarding the uncertainty.
Watch the Story –10 things Chicago Bulls legend Dennis  Rodman cant live without
ADVERTISEMENT
Article continues below this ad
Despite completing the three-peat, Chicago Bulls eventually broke the team apart following the 1998 season. Rodman made his way to Hollywood and ended his career the following year.
What do you think of Rodman's storied career? Share your thoughts in the comments below.
Edited By: Satagni Sikder