'He's at Peace'- Warriors' GM Bob Myers Explains Why Talisman Steph Curry is Having a Record-Breaking Season
Published 03/04/2021, 3:56 PM EST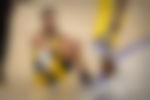 ---
---
Steph Curry is one of the most prolific shooters that the NBA has ever seen. After missing almost a year due to a wrist injury, the Dubs' star is back to being one of the best in the league once again.
ADVERTISEMENT
Article continues below this ad
He has led the Warriors to the 9th seed in a stacked Western Conference with a record of 19 wins and 17 losses. The 32-year-old has been on an absolute tear this season averaging an insane 29.7 points, 6.3 assists and 5.5 rebounds per game.
Warriors GM Bob Myers explains why Steph Curry has been so impressive this season
ADVERTISEMENT
Article continues below this ad
Warriors General Manager recently spoke about Curry's amazing form. In a recent appearance on the Dubs Talk podcast, Myers said, "What I think he's channeled is, he's found a way — all the success, all the fame, all the celebrity, the highs, the lows, the in between — he's found a place where he's at peace.
"I think that is what allows him to be who he is and to save his energy and use it wisely and be efficient. I don't think you really realize that until you're 6, 7, 8, 9, 10 years in the league sometimes where you know when to put in your work, you know how to live and be with your family, how to show up and live on the road and I think you're seeing it all come together for Steph."
He added, "Obviously to accomplish the individual accolades of a couple MVP seasons, to have the championships … I think now, he's just playing for love.
"It's not that he doesn't want to win — he does, we all do. But I don't think he feels any pressure beyond the pressure he puts on himself. I think for a while, like any player, he wants to prove to he can do this or that."
Myers explained that Steph is not worried about accolades. He said, "I mean, what else does he have left to prove? So I think he's able to just go play basketball, and he's already unbelievably talented and hardworking. We're seeing it all kind of culminate this season."
Can Curry lead the Warriors to the Playoffs?
Steph Curry might be on a tear this season, but the Warriors are far from being one of the best in the stacked Western Conference. Much of it has been because of the new look of the team.
With an injured Klay Thompson, the Dubs have relied on new signings Kelly Oubre Jr. and Andrew Wiggins to give an offensive boost to the team.
ADVERTISEMENT
Article continues below this ad
While Wiggins has shown some potential of being a reliable defender and a decent scorer, Oubre has seen a mixed start to his Dubs career.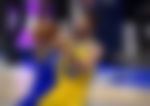 After a slow start with the Dubs, the 25-year-old has finally found some form. In the last 14 games, the 6'7″ forward is averaging 20.6 points, 6.8 rebounds and 1.6 assists per game.
ADVERTISEMENT
Article continues below this ad
With the new-look roster finally starting to gel, Curry can rely on others for offense and can make a serious push for a spot in this year's Playoffs. Will the Warriors make it?