"He's Having Another Baby?!": Father of 12 Kids With 6 Different Women, Hollywood Actor's Latest Move Has Shaquille O'Neal in Shock
Published 03/14/2023, 8:10 AM EDT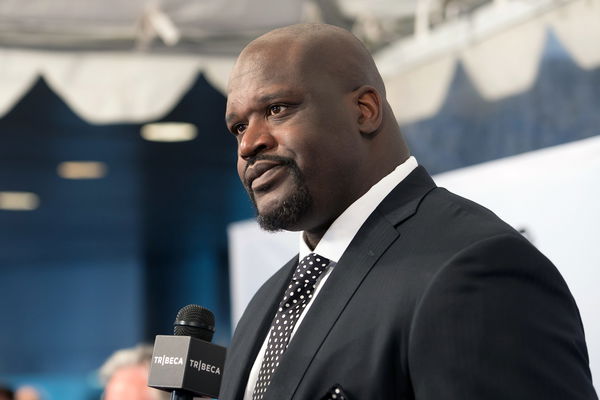 Off the hardwood, NBA legend Shaquille O'Neal is a family man and a proud father of six children. While his marriage with Shaunie reached a point of no return, Shaq continues to be an old-fashioned man who likes to provide and protect his clan. So, when the family guy heard about Nick Cannon flashing the happy announcement that is not without a twist, Shaq nearly jumped out of his skin.
Notably, Cannon has 12 children with six different women so far. And it looks like, he is not stopping anytime soon. The TV star's recent announcement involves comedian Kevin Hart as well. Here is how it is all connected.
A puzzled Shaquille O'Neal lets out an unfiltered reaction to Cannon's news
ADVERTISEMENT
Article continues below this ad
The Los Angeles Lakers legend joined co-hosts Nischelle Turner and Spice Adams in the latest episode of the Big Podcast with Shaq. In one instance, Nischelle asked O'Neal, "Did you just see your boy just made another announcement today Shaquille?" She added it was Nick Cannon. The four-time NBA champion was puzzled and the first thing that came to his mind when he heard Cannon was, "He's having another baby?!" Hearing this, Turner busts out laughing. She then composed herself and said, "No. He's having another baby, but it's a show about a baby."
Far from clarity, O'Neal and the NFL veteran looked even more confused. The Emmy award winner added, "So him and Kevin Hart are teaming up to do a game show called 'Who's having my baby?' That's what the game show is called. And they're inviting women on, that want to have Nick's baby and it's gonna be like a game show on E!."
ADVERTISEMENT
Article continues below this ad
As Shaq was seen shaking his head in disbelief, Adams could only utter, "What?" When asked whether it was true or not, Nischelle replied that the information about the game show looks likely to be true as the TV channel, Kevin Hart, and Nick Cannon posted about the show on their social media handles.
O'Neal was approached for a similar game show
Nischelle Turner then asked for a response from Shaquille O'Neal who remained silent after the initial shock. Shaq then revealed that he was once approached for a show called The Next Mrs. O'Neal but he turned it down.
ADVERTISEMENT
Article continues below this ad
WATCH THIS STORY – How much did Shaquille O'Neal weigh at birth
Validating his decision, Nischelle replied that she was glad the 2000 NBA MVP did not accept the show. The NFL veteran joked that at least it was about marriage and the alleged Nick Cannon show is skipping that step completely.