"He's Not a Second Coming of His Pops": Wild Bronny James NBA Prediction Draws Major Flak From Fans
Published 02/23/2023, 3:50 PM EST

Follow Us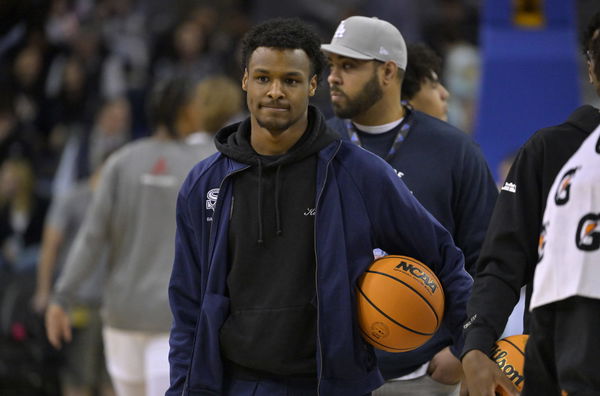 As the son of an NBA great, the expectations just keep piling on Bronny James. The eldest son of the James clan, the Sierra High prospect has impressed with his developments. However, just due to his name, fans expect him to grow the rich legacy his father, LeBron James has left in the NBA. The 18-year-old sure displays some valuable skills. His powerful dunks and long-range shooting highlights go viral more often than not. Recently, ESPN's Draft Express came out with player comparisons for the 2024 draft prospect, which drew some wild reactions from the fans.
As soon as the world saw Bronny put on a basketball jersey, the headlines and comparisons began to pour in. Similar to his father, the cameras follow his journey at all times. While he isn't deemed to be the 'chosen one', the pressure is immense. Due to the position he is in, James has the best facilities at hand. Moreover, growing in the shadows of LeBron James comes with a price.
ADVERTISEMENT
Article continues below this ad
With an NBA dream, many would project Bronny to turn into a player similar to 'The King'. However, according to ESPN, that is far from the case. Their projections see the 18-year-old becoming a high-end role player when he transitions into the NBA.
Bronny James won't be the next LeBron James?
The draft stock of James' eldest son has been on a constant rise. The Sierra High senior has shown staggering developments from the time he was ranked 33rd in the 2023 recruiting class. His most notable trait is his shooting. Bronny James has a butter-smooth jumper and can easily knock down shots from NBA range. In addition, he is being praised for his hard-playing defense.
According to a mock draft by Jonathan Givony of ESPN, he projected the young millionaire to be picked 10th overall. Shockingly, he also deemed him to be the best perimeter defender in his class. The combination of his tools makes him a three-and-D prospect, a build that is in heavy demand in today's game.
According to ESPN's Draft Express, "You're looking at a De'Anthony Melton, Marcus Smart, best case a Jrue Holiday type player — a phenomenal role player who impacts winning at the highest level."
Several fans took to Twitter to react to the 18-year-old's projections. Here are some of them:
Whenever y'all ready to accept that he's not the second coming of his Pops and that he's just a great basketball player, all will be well. https://t.co/FHZLP8mupl

— TMTG (@Jo_GotGame) February 23, 2023
No way bro said that lebron's son is going to be a role player 😭

— 💤🌅🥱 (@slxckzzz) February 23, 2023
I love it! Dont compare him to his dad hes clearly an outstanding player. Defense wins championships!

— KevTalksXans (@KevTalksXans) February 23, 2023
That's good. Not everyone will be Lebron as long as you can play defense and hit open looks you are good to go

— DurantMuse 3️⃣5️⃣ (parody account) (@Durantmuse) February 23, 2023
Nah why they trying to play bron son like this

— HollowFrobe (@the_only6) February 23, 2023
So he will be defense oriented with some nice offensive skills?

— AJC711 (@CookieDaBest711) February 23, 2023
There is no doubt Bronny James is a skilled prospect. Not only does he embrace the spotlight, but he also works hard. Having one of the most intelligent players in NBA history by his side poses to be an unfair advantage. However, just because he is being trained by LeBron James doesn't necessarily mean he will be the next King.
Bronny is an exciting prospect with a lot of potential
Bronny has developed into a great shooter, something the NBA's all-time scorer has struggled with throughout his career. What he takes from his father is his basketball IQ and improving playmaking skills. The 6'2″ guard is also freakishly explosive and finishes emphatic lobs on the daily. Being quick and nimble makes him a nightmare matchup on both ends of the floor.
ADVERTISEMENT
Article continues below this ad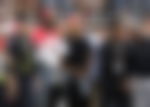 All of his comparisons, Melton, Smart, and Holiday, have carved out great careers in the NBA. They are arguably among the best 3-and-D players in today's game. It only shows that as a raw prospect, Bronny James' groundwork puts his ceiling to be a great NBA player. However, he still has ample time to develop his game and learn how to make it most effective to win. Chasing LeBron James right now would only weigh down on him and might demotivate Bronny James as a basketball player.
WATCH THIS STORY–All records held by Christmas day games 'King' LeBron James
ADVERTISEMENT
Article continues below this ad
As of right now, several of the top colleges are lining up to sign the eldest son of LeBron James to their program. If not college, Bronny can continue to hone his skills by playing elsewhere until ready for the NBA. His progress all depends on the work he puts in and how he utilizes his natural gifts on the court.
Do you think Bronny James will surpass his limits? Let us know your views in the comments below.
Edited By: Pragya Vashisth