"Higher Level Than Lebron James Ever Was": Giannis Antetokounmpo Showered With Huge Praise by Expert for Innate Quality
Published 05/04/2022, 8:49 AM EDT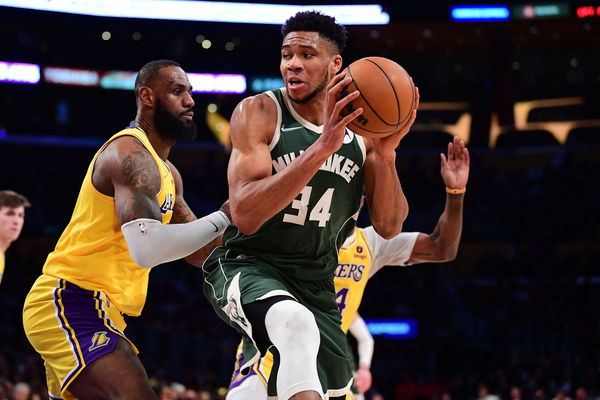 Two-time MVP Giannis Antetokounmpo has had a stellar season. And is continuing that momentum into the playoffs. In the first round of the playoffs, Giannis helped his team comfortably win against the Bulls 4-1.
To earn a spot in the Eastern Conference finals, the Bucks now have to beat the Boston Celtics. The Bucks won the game 1 with a scoreline of 101-89. And they had to do it without their All-Star Khris Middleton. 
Even though Giannis didn't have a good game, he is getting plaudits from everywhere. And sports writer Brian Windhorst has recently said that Giannis is a better defender than LeBron James ever was. He said, "…Giannis as a defender is probably at a higher level than LeBron even ever was…".
ADVERTISEMENT
Article continues below this ad
Bro what Giannis isn't locking up mvp d rose in the playoffs like bron did

— shark (@sharmake_b) May 3, 2022
As you can imagine, this has garnered a lot of comments from fans on Twitter. While some fans seem to accept his comments, others flat-out rejected them.
False.. Lebron could guard MVP level point guards and forwards. Giannis is obviously a better rim protector but that's it

— Jacob Howard (@LMH_61618) May 3, 2022
Brian also compared LeBron's early Cavaliers days to Giannis. And said that he could see the Greek Freak running the East for a decade as James did. He gave props to LeBron for the way he played against a great Celtics team during his early days. And that Giannis has a similar multi-talented ability to James.
Giannis Antetokounmpo vs. LeBron James
During his prime years, James was considered one of the best defenders in the league. He was an elite perimeter defender and rim protector. His chase-down blocks need no introduction to the NBA fans. And LeBron's defensive abilities have helped him and his team win multiple times.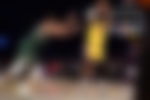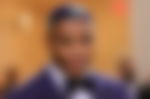 NBA fans still remember LeBron James's historic block on Andre Iguodala in game 7 of the finals. With less than 2 minutes on the clock and the scores tied, LeBron's block helped the Cavaliers win their first-ever NBA title. At 37, LeBron isn't the same anymore, especially on the defensive end. But he can still do a great job whenever it is required.
ADVERTISEMENT
Article continues below this ad
So being compared with the Lakers star and being called better than him is a huge compliment to anyone. And Giannis is a better rim protector and glass cleaner owing to his size and freakish athletic abilities. 
WATCH THIS STORY – Michael Jordans Baseball Career: Stats, Highlights & More
While LeBron was the first draft pick, Giannis was the 15th. And there was no hype surrounding the selection of Giannis. He had to work his way up the ladder. He entered the league as a lanky young boy and has now become one of the most dominant men ever to play.
ADVERTISEMENT
Article continues below this ad
Giannis still has a long way to reach the levels of LeBron James in terms of championships and accolades. But he is on the right path to etch his own history.
Do you think Giannis is better than LeBron?