'His Fault': Wizards' Bradley Beal Blames Opponent for Fueling Him to Score 17-Points in One Quarter
Published 02/28/2021, 9:50 AM EST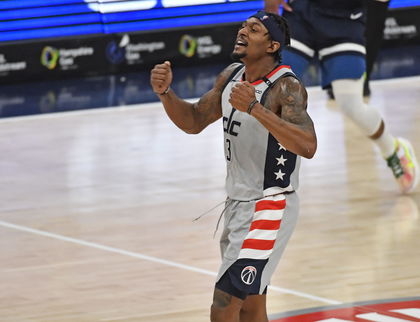 ---
---
The Washington Wizards eased to their 13th win of the season by getting past an inconsistent Minnesota Timberwolves team on Saturday. Bradley Beal once again led all scorers with 34-points, of which 17 of them came in the third quarter. What motivated Beal to go on a scoring spree? 
ADVERTISEMENT
Article continues below this ad
Bradley Beal has been in sensational form ever since the start of the 2020-21 NBA season. He's scored 30+ points in over 50% of the games he's played this season and has been the Wizards' shining light of hope. 
One could assume that Beal just channeled an inner mantra to go off for 17 points in one quarter, but it wasn't self-motivation alone. An external factor caused the 27-year-old to catch fire right after the first half. 
ADVERTISEMENT
Article continues below this ad
Wizards' Bradley Beal piles blame on Timberwolves player for his hot -streak
Yes, that's right. Bradley Beal was forced to go on a scoring spree by a Minnesota Timberwolves player. Beal had just 13 points to his name by half-time, but Wolves' Josh Okogie allegedly taunted the Wizards guard by telling him that he has him in his pocket.  
"It's his fault," Beal accused Okogie for his 17-point quarter. The 2021 All-Star starter went a perfect 6-6 from the field and helped the Wizards gain a massive lead in the third, all thanks to Okogie's trash-talking.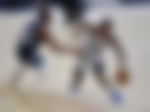 "I don't know. I don't know but let them keep doing it. Nothing's going to change no matter who's on the other side of that playing against us. He got me going talking trash, and I talk with the best of them too. So it was cool with me," Beal said after the win. 
ADVERTISEMENT
Article continues below this ad
Safe to say that Beal won the personal battle as he ended with 34 points and a win, while Okogie only posted 12 points on the night which came in a losing cause. Furthermore, it was also Beal's 20th thirty-point game of the season and it came in only his 29th regular-season game with the Wizards! 
A player like Bradley Beal hardly requires any external motivation to score points. He's already been doing that this season, and Josh Okogie woke up the inner beast with his trash-talk. The Wizards now hold a 13-18 record for the season, but can they make it to the playoffs under Beal's leadership? 
ADVERTISEMENT
Article continues below this ad