Rockets' James Harden Counts the Reasons Why Big Man Christian Wood is Important
Published 12/29/2020, 6:15 AM EST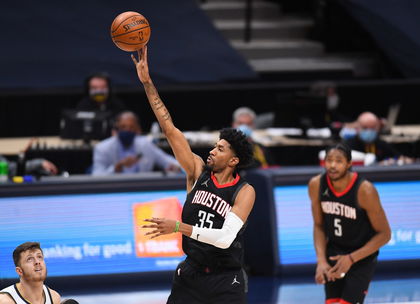 ---
---
The Houston Rockets had a bumpy beginning to their 2020-21 ride. First, their players got into unnecessary trouble that led to the postponement of the game against the Blazers. The league fined James Harden while they asked the other players at fault to quarantine themselves as per strict protocols. 
ADVERTISEMENT
Article continues below this ad
This led to the Rockets playing in the absence of the newly acquired players, John Wall and DeMarcus Cousins, with others like Eric Gordon and Mason Jones. Hence, they had to play with their second-team and that was both an opportunity and a gamble. An opportunity for the bench to step-up was a risky gamble because they risked losing two games.
James Harden had something positive to say after losing both the outings
ADVERTISEMENT
Article continues below this ad
After their clutch-time loss against the Blazers, Harden had said, "it's an opportunity for the other guys to step up and play big minutes." Well, seemingly, only Christian Wood grabbed that chance and delivered while others let it slip. 
In the game against the Nuggets, Wood scored 23 points in his 37 minutes of play. He also recorded 4 three-pointers at a phenomenal accuracy of 80%. All this, coupled with 2 steals and 2 blocks that made him the shining star next to The Beard.
In the post-game interview, Harden agreed on the importance of a Christian Wood in form, as he noted, "Our chemistry in spots. He's really good at rolling to the basket, finishing, and obviously, as we seen tonight, knocking down a three. So, just finding our spots, figuring out how teams play us, and taking advantage."
Notably, Chris had 31 points and 13rebounds in his first game for the Rockets.
ADVERTISEMENT
Article continues below this ad
Can the Rockets make a solid comeback?
Sticking to the power forward Chris, the 6'10" player brings in great size to the Rockets. The 25-YO has played with six different NBA teams in his small NBA career of five seasons. But, if he shows consistency and betters the performance he showed with the Pistons, he can be a great asset. As Harden added, "It's a huge advantage. It gives everybody on the court more spacing, more opportunity to drive, and more opportunity to just be free."
ADVERTISEMENT
Article continues below this ad
When the complete roster joins back, the team will look scary and all they will then require is finding the chemistry. They haven't yet practiced together even once as a complete unit, and this is something biting them. The Rockets will next meet the Sacramento Kings and would like to find their 'W'.