Rockets' John Wall Discusses His Return to the NBA
Published 12/31/2020, 11:45 PM EST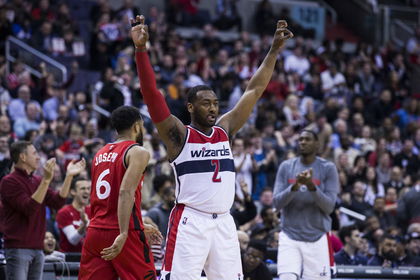 ---
---
John Wall returned to action in the NBA after almost two years out. Wall last played in December 2018 when he suffered a debilitating injury playing for the Washington Wizards. After an extremely long recovery period, during which he suffered other auxiliary injuries, Wall is back on the court with his new team Houston Rockets.
ADVERTISEMENT
Article continues below this ad
After his successful debut with the Houston Rockets, John Wall revealed that he was excited to be back on the court, playing with his new teammates and head coach, Stephen Silas.
ADVERTISEMENT
Article continues below this ad
He said, "I feel great. I got to get some rust off of a couple of my jump shots. But I ain't played in two years and five days man. I'm just happy to be out here. I play with a great group of guys, being in a great city like H-Town, and got coach Silas his first win."
John Wall discusses new teammates
Wall also spoke about the early season setbacks for the team with losses coming early for the Rockets. Wall believes that the team will take some time getting back into the flow of things. Because of how hardworking the group is, Wall suggested that the team will eventually find their rhythm and start playing well.
"Yeah man, we got set back. We missed the game on Wednesday the home opener, then we missed two games on the road…We're just trying to get everybody used to being back on the same page. But I think we'll be fine. We work hard, we played hard, we've got guys that can score and create for each other. We'll be fine, it is a great start to get a great win."
ADVERTISEMENT
Article continues below this ad
Comparing his long absence from the sport with teammate DeMarcus Cousins, Wall noted, "It is great man, we just enjoy this. I haven't played in two years, DeMarcus hasn't played in like a year and a half too. So we're just working hard to get better every day and try to get better."
Wall took time to praise his new head coach Stephen Silas as well. He said, "He's the coolest kid in the house. He doesn't say too much, he's laid back. I called him slim, he's doing a great job and we're going to keep getting better."
ADVERTISEMENT
Article continues below this ad
The Rockets' win over the Sacramento Kings proved that they are far from finished in the NBA. Harden looks rejuvenated with the start of the new season, and along with John Wall and DeMarcus Cousins, he could still have a chance to win an NBA championship.