Rockets Legend Takes Shots at 7ft All-Star After He Got Thrown Out of NBA Game Due to Dirty Antics: "You Can Take the Boy Out of Utah.."
Published 12/04/2022, 6:10 AM EST

Follow Us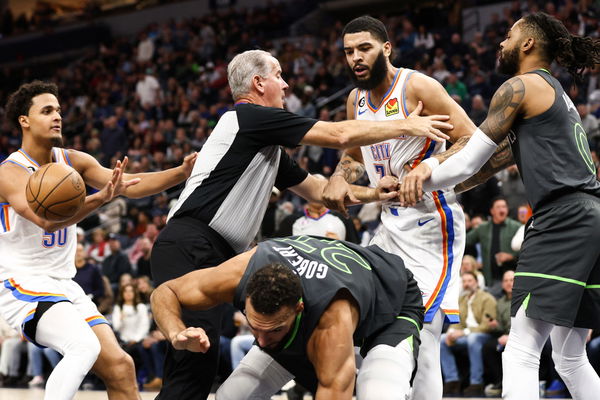 Houston Rockets legend Vernon Maxwell recently reignited his feud with the Utah Jazz. Maxwell won two NBA championships with the Houston Rockets. And being a part of the Western Conference, they often went up against the Utah Jazz. In fact, they defeated the Jazz in the 1994 Western Conference Finals to go on to win their first NBA title. 
But it seems like Maxwell is still going hard against Utah, taking shots at them through their former player, Rudy Gobert. Gobert was drafted by the Jazz and played nine seasons with the team.
ADVERTISEMENT
Article continues below this ad
Rudy Gobert gave Vernon Maxwell some new content
He was recently traded to the Minnesota Timberwolves where Gobert just earned his first ejection for his new team. With over nine minutes left in the second quarter of the game, Kenrich Williams finished the play with a floater over Rudy Gobert.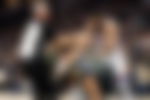 But Williams fell on the floor as Gobert contested the shot a little late. As the two were on the floor, Gobert tripped Williams up as he tried to get up off the floor and back on defense. This resulted in a scuffle between the two, forcing officials and teammates to intervene.
Vernon Maxwell felt this deserved another blow on the Jazz franchise. He tweeted, "You can take the boy out of Utah but you can't the Utah out the boy." 
Gobert was ejected from the game as he received a flagrant 2 foul for tripping over Williams, who also got handed a technical for shoving Gobert as he was trying to get up off the floor after the play. 
Houston Rockets legend and his history of trolling Utah fans
It is still unclear as to what instigated Gobert to resort to such antics on the floor but Maxwell seemingly enjoyed the whole altercation. Furthermore, the Houston Rockets great has taken shots at the Utah Jazz franchise quite a bit over the years. 
Watch This Story – Stars that Shaquille O'Neal has taken shots at, Donovan Mitchell, James Harden, and more 
ADVERTISEMENT
Article continues below this ad
He had once posted a video of holding a free clinic for young shooters in Utah. The video started off with players air balling jump shots and no converted buckets. 
So here is the reason I'm in Utah. I decided to offer a free clinic to the best young shooters in the state as a truce to try and mend my relationship with Utah fans. Here are the best shooters the state had to offer…. pic.twitter.com/ziJgaFP8En

— Vernon Maxwell (@VernonMaxwell11) January 28, 2020
ADVERTISEMENT
Article continues below this ad
Later on, he 'apologized' to the fanbase saying if he were aware that Utah had internet service, he never would've posted that video. 
What do you think of Vernon Maxwell's latest shot at the Utah Jazz? Let us know in the comments below.