"How Angry Was She?": Washington Legend Reduced His Wife's Income by $36K After His Wizards Career
Published 12/20/2022, 3:50 PM EST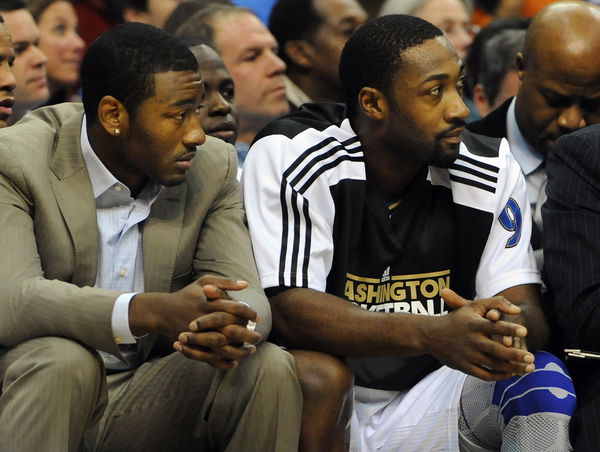 Child support disputes are pretty common among NBA stars and celebrities who end up separating from their partners. However, some of them often get tangled in the drawbacks of the legal system, resulting in some serious financial losses. Luckily for Washington legend Gilbert Arenas, he ended up reducing his ex-wife Laura Govan's income through child support by $36K following his Wizards career.
Arenas began dating 'Basketball Wives LA' star Laura Govan in 2002 after making his debut for the Golden State Warriors in 2001-2002. He joined the Wizards in 2003 and stayed with them until 2010. The former duo eventually parted ways in 2014 and have four children together. In a recent appearance on VLAD TV, the three-time All-Star revealed how his ex-wife Govan received a financial setback during an attempt to get more money in child support.
Washington Wizards legend's story prompts curiousness from DJ Vlad
ADVERTISEMENT
Article continues below this ad
During the interview, DJ Vlad asked Gilbert Arenas if he paid exactly what he was supposed to pay or overpaid the child support. The former Wizards star reckoned that he started by paying $20,000 a month for his four kids with Laura Govan. However, the reality star went to court and demanded more money. During the negotiations, the judge offered Arenas an increased payment in exchange for more time with his kids. The Washington Wizards legend agreed to the deal to stay close to his kids.
However, Arenas revealed that a month later, Govan filed another suit to get more money. Unfortunately for Laura Govan, the judge rejected her request and dropped the child support down to $7100 per month as per the official norms. Listening to Arenas' hilarious story prompted DJ Vlad to know more.
As a result, DJ Vlad questioned, "So she lost a third of her original on her filing. How angry was she when he got that $7100?"
Gilbert Arenas couldn't wait to answer the question. He soon obliged Vlad with an intriguing answer.
Arenas shares ex-wife's reaction after child support setback
Arenas clarified that his wife was pretty frustrated with the new settlement. He also stated that one of the chief reasons why he did not get along with his ex-wife was the child support incident. The former couple could not make peace with one another after repeated attempts from Govan to get more child support from Arenas.
ADVERTISEMENT
Article continues below this ad
Arenas added, "So you know like, there is no like we, you parent from there, I'll parent for here."
The Washington Wizards legend reckoned that the child support controversy distanced him from his former wife, resulting in them not being able to spend time together with their kids.
ADVERTISEMENT
Article continues below this ad
WATCH THIS STORY: Top 5 NBA signature celebration moves, LeBron James, Stephen Curry, Michael Jordan, and more
In addition, Gilbert Arenas suggested that he actually pays more than the official child support amount of $7100. He claimed to be taking care of the kids by paying for school and buying necessities like clothes, shoes, and more.
Edited By: Satagni Sikder