How Can the Brooklyn Nets Replace Spencer Dinwiddie?
Published 12/29/2020, 2:12 PM EST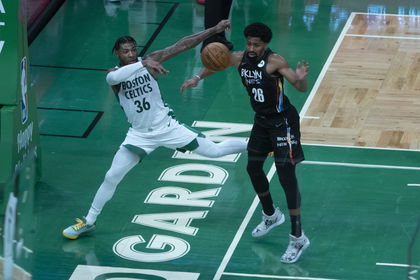 ---
---
The Brooklyn Nets' first regular season loss against the Charlotte Hornets was a tough one, to say the least. Their stars Kyrie Irving and Kevin Durant had solid performances, but their bench failed to step up. One of the major reasons for this was the ACL injury to Spencer Dinwiddie.
ADVERTISEMENT
Article continues below this ad
Dinwiddie was coming off of a career-high season where he averaged 20.6 points and 6.8 assists per game. In the new-look Nets, the 27-year-old was settling as the third ball-handler behind Kyrie Irving and Kevin Durant.
The duo of Dinwiddie and Caris LeVert is the face of the second unit for the Nets. The ACL injury sidelined Dinwiddie for the entire season. This injury will force more offensive load on LeVert, Durant, and Irving.
ADVERTISEMENT
Article continues below this ad
The possible replacements for Brooklyn Nets after Dinwiddie's injury
This injury to Dinwiddie is a real blow for the Nets, but it does open up the opportunity for some young guards on the roster. One of them is Chris Chiozza. Chiozza has played in the NBA for 3 seasons now.
He has been an average player, but with a player like Dinwiddie gone and coach Nash looking to rest Durant and Irving in regular intervals, Chiozza will have enough minutes on the court to prove himself as a solid contributor. If he does perform, he will be a big help to the Nets' bench.
Another player on the roster who will be getting much more minutes than expected is Timothé Luwawu-Cabarrot. The 25-year-old has been in the league for 5 years now. Last season when he was signed by the Nets, he was impressive in the limited time he was on the floor.
With Dinwiddie out, Cabarrot will play a much bigger role in the second unit of the side. In their 4th game of the season, with a rested Kyrie and Durant, Cabarrot was on the court for 40 minutes, scoring 21 points and 6 rebounds. If he continues this run of form, he can be a crucial player on their roster.
Free agents that the Nets can sign
Apart from their roster, the Nets can also take the Disabled Player Exception worth $5.72 million. This will open up a possibility to bring in a free agent available on the market.
One of the free agents they can sign is Jamal Crawford. Crawford only played for 6 minutes for the Nets last season before injuring himself. But he looked good. If he really can stay fit, he can be a spark plug to their offense.
Crawford will be ready to take a veteran minimum, anyway. If he does stay healthy, he can be a real help for the roster, especially offensively.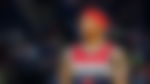 ADVERTISEMENT
Article continues below this ad
Apart from Crawford, the Nets could sign someone like Isaiah Thomas. Thomas has also been an injury-prone star, but he is a player worth taking the gamble for.
For his career, the 31-year-old has shown his prowess as a score-first guard as he averages 18.1 points, 5 assists, and 2.5 rebounds. If he can remain fit, he might be a player who can come close to replicate Dinwiddie's output.
Both the players are proven scorers and can be good replacements for a player of Dinwiddie's capability.
ADVERTISEMENT
Article continues below this ad