How Does James Harden Keep Himself Fit? A Look Into His Intense Workout Routine
Published 01/21/2021, 7:00 AM EST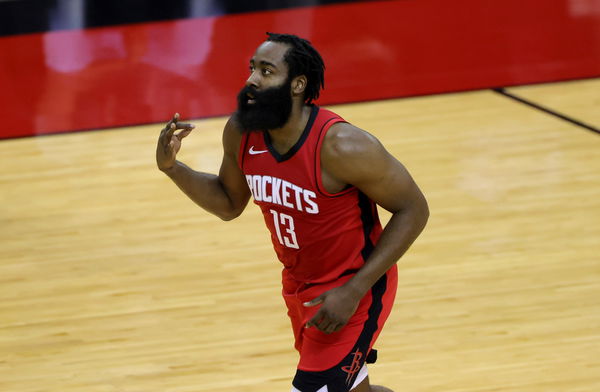 ---
---
Throughout his career, James Harden has put up some historic numbers and a lot of the credit goes to how hard he works during the offseason. And he does that not only to stay in shape but also to improve himself as a player.
ADVERTISEMENT
Article continues below this ad
It is his work ethic that has led him from being a star in college, then the Sixth Man, and finally, one of the most dominant scorers in the league. Let's have a look at how Harden established himself in the league and what are the workouts behind his success so far.
Rise to stardom
ADVERTISEMENT
Article continues below this ad
All the way from his playing days in Arizona State, Harden always showed signs of being a superstar. When he joined the Oklahoma City Thunder, it looked like the franchise had found its ultimate piece for the 'Big Three'. Alongside Kevin Durant and Russell Westbrook, Harden managed to make his name real quick.
However, the role in OKC was not enough. He showed interest in being the sole star of the team after Oklahoma lost to the Miami Heat in the 2012 NBA Finals. Then came the surprise preseason trade that landed James in the Houston Rockets.
After a lot of teammates and coaches changed, Harden got what he wanted. He achieved the NBA star status and quickly made his way to the MVP candidates' list.
Harden's statistics are even more fascinating than his journey. Apart from the 2013-14 season, his scoring has only increased with each passing year since he joined the league. So, how does he do it?
As per Men's health, Paul Fabritz is the man behind Harden's fitness. "[Harden] plays 82-plus games every year, so we've got to keep him durable, resilient, and healthy," Fabritz said when the Men's Health crew visited him in Anaheim, California, to witness a typical workout. "It's not just about health—it's about explosiveness. It's about his movements on the court."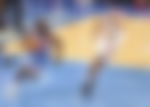 James Harden and his workout
Harden's workout starts with a dynamic warmup. This focuses on stretching the muscles, increasing the body heat, bringing in energy, and warming up the nervous system.
For this, exercises like high skips, quad stretch, over-unders, Frankenstein kicks, walking hamstring stretch, hip-flexor stretch, and adductor stretch are done.
Following this are the mobility drills. These include a high skip into a deep squat and quick line into a stick. To strengthen his core, he goes ahead with Da Vinci Planks and does European stability drills.
ADVERTISEMENT
Article continues below this ad
Last is the high-intensity workout with one-arm dumbbell presses, weighted jumps, inverted rows, and rear-foot elevated split squats. To conclude his workout and cool down, he resorts to Samson stretch, active hamstring stretch, 90-90 get-ups, and kneeling ankle mobility drill.
Well, what did you expect? For a player like Harden, the workout has to be this intense. Do you think you could ever follow this routine?
ADVERTISEMENT
Article continues below this ad