How Does Money-Sniper Kevin Durant Spend His $170 Million?
Published 01/17/2021, 5:15 AM EST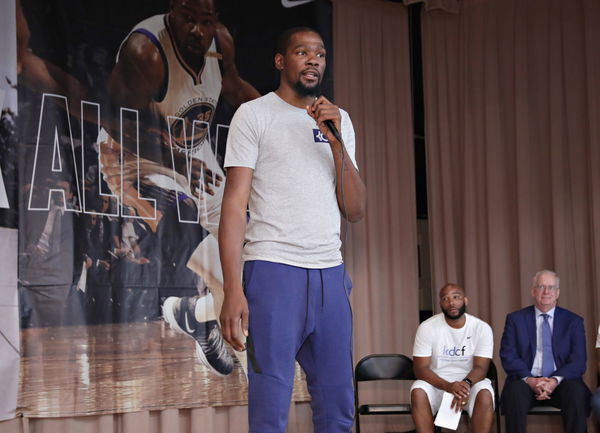 ---
---
Kevin Durant has never known mediocrity. In his rookie season itself, he averaged 20.3 points and ruled the court from both ends. Two years into the league, and he was Thunder's main guy. The 6'10" forward player is born for greatness and leaving a few major injuries aside, he never settled for less.
ADVERTISEMENT
Article continues below this ad
The same goes true for his business deals. Be it his skyrocketing contract numbers that kept growing every season or his endorsement deals, KD has always hit the bullseye. Take a look at the inflow and outflow of the multi-million in his bank account(s).
From where is Kevin Durant making all his big money?
ADVERTISEMENT
Article continues below this ad
Currently, this "easymoneysniper" is the seventh highest-paid player in the NBA with a net worth of $170 million. By the time he will conclude his 4-year contract with the Nets, he would've earned $350 million over his entire career. If he stays healthy and plays as long as LeBron James, chances are strong that he will touch that $500 million mark.
His sponsorship deals have also been very fruitful. His rookie contract with Nike itself got him a whopping $60 million. In 2014, the star signed another 10-year endorsement deal with Nike worth over $300 million. His signed shoeline earns the company the third most revenue after Michael Jordan and LeBron James' offerings.
Overall, he makes an additional $35 million annually through sponsors like Beats by Dre, Alaska Air Group, Google, and Gatorade. Now, take a look at his spendings-
KD's craze for mega habitats
In 2016, KD became a free agent. He rented an upscale mansion in the Hamptons to proceed with the trade dealings and take meetings with prospective suitors. It was a 7400 sq ft $15.5 million rented for just 10 days. This was something totally insane, but that's how Kevin liked it better.
His real estate portfolio is worth $30 million today. After signing with the Nets in 2019, he sold his 3423 sq ft Broad Beach Malibu mansion for $12.15 million ($0.1m profit). Next up, his 9084 sq ft Oklahoma City mansion is out for sale at $6 million.
His top investments and ownership
KD, just like the other legends of the game, keeps a keen eye on the business ecosystem that is shaping the silicon valley. He invested in disrupting startup companies via his own firm, Thirty5 ventures. The list of investments is long, Postmate, Robinhood, Acorns, Skydio, Coinbase, Yoshi, Cerracap, Rubrik, Jetsmarter, Hugging Face, Whoop, Pieology, and Lime. This goes down as a very diverse portfolio that goes into multi-industries. KD knows how not to keep all his eggs in one basket. 
For Postmates, he went a step out of his comfort zone to become a delivery guy for a day. What a commitment! As a result, the company is doing great business and his stake in it stands tall at $15 million.
He produced a documentary, Basketball County: In the Water. Being an avid gamer, KD also contributes to NBA2K game development. Plus, he is a part-owner of the Philadelphia Union Soccer Club. He has a 5% stake in the organization with an option to upstake to 10%. 
Not just that. He runs a Spotify Podcast named 'etcs w/KD'.
Kevin Durant and his terrific line-up of cars 
Now this list is extensive. Prepare to become envious of KD. He has a $200,000 Ferrari California that he likes to take to the countryside. His other prized possession is $200,000 Mercedes Benz SLS AMG that defines his class. Next in the line-up is $35,000 Camaro SS that looks like a Batmobile.
ADVERTISEMENT
Article continues below this ad
The other cars are $100,000 Cadillac Escalade, $117,000 Range Rover, $65,000 Jeep Wrangler, and $46,000 Lincoln Continental. But the one that stands apart is the $32m000 GMC Van (A home on the wheel, his most unique possession).
Giving back to society
KD is passionate about basketball, and that goes way beyond the NBA. He owns Kevin Durant Charity Foundation. With this non-profit organization, he takes care of young children's academics and also helps Basketball court renovations/camps, offering STEM programs. Also, he recently donated his 21st court to a Brooklyn-based school (second in NYC). 
ADVERTISEMENT
Article continues below this ad
Kevin Durant someday wants to own his own Basketball team as well. Do you think he will achieve such an audacious goal? Help us know in the comments.
Read also – What All Did Richie Rich LeBron James Purchase to Spend His $450 Million?