How Does The Starting Five For Brooklyn Nets Stack Up After the Latest Signing of LaMarcus Aldridge
Published 03/28/2021, 11:31 PM EDT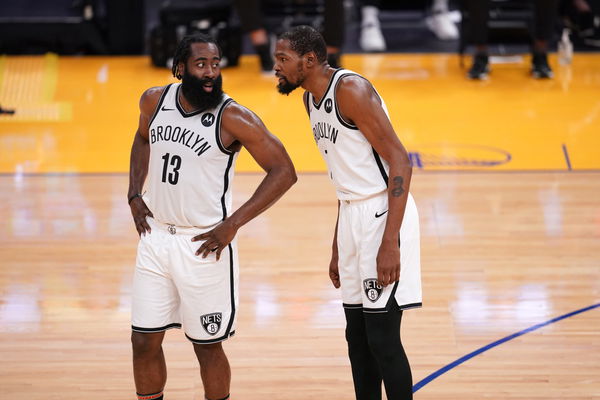 ---
---
Brooklyn Nets weren't very active in the trade market, but they have certainly made multiple mind-boggling additions to their roster from the off-season and through free signings.
ADVERTISEMENT
Article continues below this ad
After trading for James Harden and then signing in free agent Blake Griffin from the buyout market, the Nets were not done. They recently brought in veteran center LaMarcus Aldridge to their roster.
With multiple All-Star talents at their disposal, the Nets look like a scary team. And with all the moves most probably done, we take a look at the probable starting lineup for the Brooklyn Nets.
ADVERTISEMENT
Article continues below this ad
Brooklyn Nets predicted new lineup
Backcourt
James Harden- Point Guard
Ever since the Brooklyn Nets made the James Harden trade, they have been exceptional. Harden's contribution has been immense for the Nets. Primarily seen as a scorer, 'the Beard' has transformed himself into a facilitator for the Nets.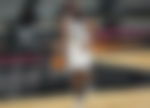 He has been performing at an MVP level ever since his move to the New York-based outfit. Harden is averaging an insane  25.8 points, 11.2 assists, and 8.1 rebounds per game. The 9-time All-Star is key to the Nets' free-flowing offense. If he continues this form, the Nets will surely remain unstoppable.
Kyrie Irving- Shooting Guard
Kyrie Irving might have left the Cavs for a more ball-dominant role in the Celtics, but unfortunately, that didn't work out for 'Uncle Drew.' In the Nets, it was assumed that he would be reprising his role as a point guard.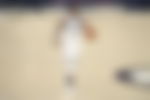 But that hasn't been the case. While he might be playing off-the-ball, the 28-year-old has thrived in his new role in the team. With more and more liberty to take shots and score, Irving is having one of his best seasons so far.
He is averaging 28.1 points, 5.7 assists and 4.8 rebounds per game. If he can maintain this form, it won't be long until he is considered as an MVP candidate.
Frontcourt
Joe Harris- Small Forward
The Nets have one of the best shooters in the league in Joe Harris. Over the years, the 29-year-old has developed himself as a regular contributor in the Nets' offense.
With three ball-dominant players in Kevin Durant, James Harden and Kyrie Irving, Harris is getting more open looks than ever. On his part, the 29-year-old has capitalized on the situation.
He is shooting at a career high 48.7% from the three-point line. If he can maintain this exceptional form in the post-season, he can be a problem for most of the teams in the NBA.
Kevin Durant- Power Forward
Kevin Durant might have missed multiple games this season, but whenever he has been on the court, he has looked absolutely unstoppable. Currently, the 6′ 10″ forward is recovering from a hamstring injury.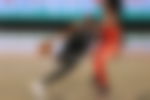 The Nets are being careful in handling Durant's injury for good measure. Once he is back to full fitness, Durant can wreak havoc against any defense.
In the limited time he was on the floor this season, he has averaged 29.0 points, 7.3 rebounds, and 5.3 assists per game. The Nets will hope that he can be back at his best once he has recovered from the injury.
ADVERTISEMENT
Article continues below this ad
DeAndre Jordan- Center
Despite the Nets signing LaMarcus Aldridge, it is highly unlikely that Brooklyn will replace DeAndre Jordan as their starting center.
Jordan is certainly a great rim-protector and an amazing defender on the paint. However, Aldridge can be the perfect option for the second unit because of the scoring punch he can bring.
ADVERTISEMENT
Article continues below this ad
The Nets finally have some amazing depth in their front-court and can switch it up from having Aldridge as a starter to DeAndre Jordan depending on the opposition. While they already had a terrifying offense, they have also bought themselves a defense that can contain other teams. Will the Nets finally win an NBA championship this season?