How Jimmy Butler's Miami Heat Used "Dangerous Loomers" Tagline Alongside LeBron James' Lakers to Inspire NBA Playoffs Run
Published 05/23/2022, 5:15 PM EDT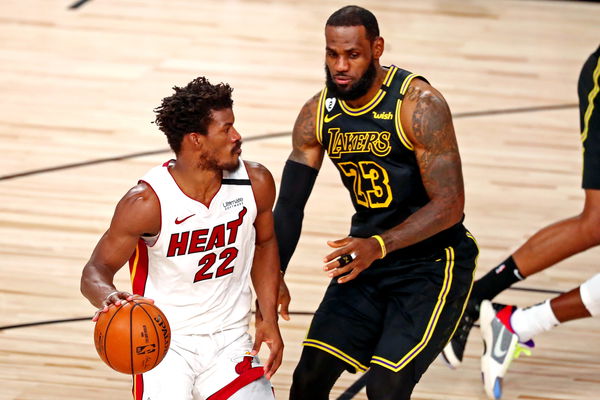 The 2020 NBA finalists, Jimmy Butler, and the Miami Heat are going strong in the Eastern Conference Finals now. They now have a 2-1 series lead against the Boston Celtics.
But during the regular season, the Heat didn't get too much attention. While teams like Brooklyn Nets, Milwaukee Bucks, and Golden State Warriors got a lot of coverage from the media, the Heat didn't. They weren't even considered a title contender and their Finals appearance in 2020 was brushed aside. 
ADVERTISEMENT
Article continues below this ad
One of the articles from ESPN featured the list of contenders for this year's championship. During the time, the Miami Heat had 25 wins and 15 losses to their tally.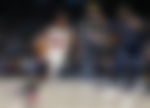 The piece listed Brooklyn Nets, Milwaukee Bucks, Chicago Bulls, Golden State Warriors, Phoenix Suns, and Memphis Grizzlies as "Tier1: The six true contenders". Out of which, only the Warriors still remain.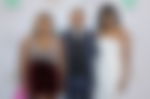 Jimmy Butler and the Miami Heat: "Dangerous Loomers"
Then came the "Tier 1.5: Dangerous loomers." in the article. This tier contained the Los Angeles Lakers and the Miami Heat. But it had the comment, "Squint hard enough and you can convince yourself that the two teams that met in the Finals in 2020 could get back there in 2022. But this isn't the bubble."
Safe to say, the fans and the Heat's media team took this personally. Some fans voiced their disapproval on social media with the tag ESPN gave, "Dangerous Loomers". And the Heat's social media team jumped on the bandwagon. They have started using the term on their social media posts.
And the players know about it as well. They know they were doubted and are using it as an inspiration. But they don't seem to care much about the ESPN article.
ADVERTISEMENT
Article continues below this ad
Max Strus said, "I mean, we've heard it, but I don't think we really care. We've been doubted. So we're just going to keep doing what we're doing and keep winning basketball games."
WATCH THIS STORY – Charles Barkley and Michael Jordans Wildest Gambling Stories
In game 3, the Heat showed exceptional character to clinch the win in the TD Garden after losing star Jimmy Butler during the second half. And Bam Adebayo stepped up big time by scoring a team-high 31 points and 10 rebounds. Also, Tyler Herro sat out the final eight minutes due to an injury.
ADVERTISEMENT
Article continues below this ad
The Heat's defense proved pivotal once again as they shut down Jayson Tatum throughout the game. He scored just 10 points, making 3 of 14 from the field. He was also forced to turn the ball over 6 times during the game. 
With the Miami Heat "dangerously looming", it will be interesting to see how the Celtics respond in game 4.