How the Entrepreneur in Michael Jordan Made Him the Richest Athlete
Published 01/04/2021, 5:00 AM EST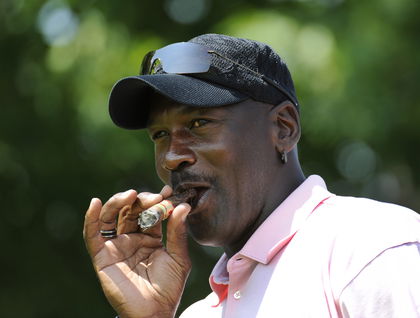 ---
---
There may be a debate about whether Michael Jordan is the greatest of all time or whether it's LeBron James, but there can be no discussion when it comes down to who is better at minting money. How else does a man's estimated net worth add up to $1.6 billion?
ADVERTISEMENT
Article continues below this ad
Without a doubt, Jordan is the richest athlete in the world, even today. This is all the more incredible because he hasn't played basketball in decades and still makes huge amounts of money. This has only been possible because of the entrepreneur in him. His business ventures and endorsement deals have made him richer than any of the other highly paid NBA players.
The Nike deal that changed his life
ADVERTISEMENT
Article continues below this ad
In 1984, when Jordan was a rookie, he had just started getting the hang of the business side of being an athlete. And then came the deal that changed his life. Back then, Nike was a struggling company too and just like Michael, everyone preferred Converse or Adidas.
However, as per Forber, when Nike enticed Jordan with a signature line, he signed a 5-year deal with them in 1984 worth $500,000 a year, plus royalties. By 2019, his take was $130 million, far more than the league's second-biggest shoe deal with LeBron James.
In fact, his sponsors added more money into his bank account. In just endorsements for big brands like Gatorade, McDonald's, Hanes, Coca Cola, and others, Jordan earned up to $1.7 billion. Michael Jordan takes over the Charlotte Hornets
When he was playing for the Chicago Bulls, he earned around $90 million (before taxes) throughout his 13 seasons with them and an additional two years with the Washington Wizards. The Bulls also paid him $4 million more while he sat out in the 1993-94 campaign to try his hand at minor league basketball.
Three years after being kicked out as the owner of the Wizards, he bought a minority stake in the Charlotte Hornets, who were the Charlotte Bobcats then. He finally took over the majority of the control in 2010, in a deal worth $175 million. He even ended up raising his stake to 90%.
The franchise is Jordan's biggest investment so far, but he hasn't stopped there. He has invested in Sportradar, Gigster, Muzik, and Axiomatic. What's fascinating is how diverse his investments are, whether it's his partnership within a Cornerstone restaurant group, or him owning a car dealership in North Carolina.
ADVERTISEMENT
Article continues below this ad
Chicago Bulls legend Michael Jordan is known for his achievements on the court, but it's his business decisions off the court that has made him a household name with true staying power pic.twitter.com/TgMuy0cSuz

— Forbes (@Forbes) January 2, 2021
Most billionaires suffered losses in 2019-20, but not Jordan. In the past year, his net worth has sky-rocketed to $300 million. Starting from a historic Nike deal and finishing with an investment in a huge franchise has made the legend even bigger than what the NBA made him.
ADVERTISEMENT
Article continues below this ad