"I Damn Near Pooped My Pants..": Talking to Scottie Pippen and Training With Michael Jordan Was a Bit Overwhelming for an NBA Vet
Published 10/27/2022, 8:00 AM EDT

Follow Us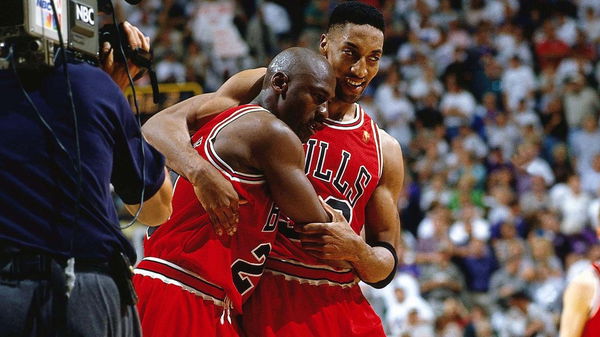 Michael Jordan and Scottie Pippen formed an elite NBA duo during their time on the court together. The two complimented each and helped the Chicago Bulls win two three-peats during the 90s. However, after the sixth championship together, the Bulls team broke as they traded Pippen to the Houston Rockets and Michael Jordan retired. Former Rockets star Cuttino Mobley recently revealed what it was like to be on the same team as Hakeem Olajuwon, Scottie Pippen, and Charles Barkley. Moreover, Michael Jordan used to join the Rockets' trio, and it was often overwhelming for Mobley.
The Houston Rockets drafted Cuttino Mobley 41st overall in the 2nd round of the 1998 draft. However, despite being drafted in the 2nd round, the Rockets knew his potential and arranged a phone call between him and his idol, Scottie Pippen. Not many players got the opportunity to play alongside NBA greats such as Olajuwon, Charles Barkley, and Pippen. But Mobley was among the lucky ones.
ADVERTISEMENT
Article continues below this ad
It was a surreal sight for Mobley who got to witness all the NBA greats together and that too in his rookie season. Mobley recently appeared for an interview and discussed talking and training with the NBA legends.
Cuttino Mobley discusses training alongside Scottie Pippen and Michael Jordan
During his appearance on 'Getcha Popcorn Ready with T.O. & Hatch', Mobley discussed meeting and playing alongside NBA legends such as Scottie Pippen, Charles Barkley, Hakeem Olajuwon, and Michael Jordan.
"He (Scottie Pippen) gave me everything and then Michael (Jordan) would come," Mobley said.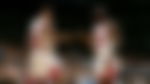 He continued: "Michael will come because he wasn't playing that year. so he would come hang with Scottie. So now I'm with Michael, Scottie, Charles Barkley, and Hakeem Olajuwon. They on the plane, they playing cards and whatever it is over there and I'm just sitting here like soaking up. I cannot believe it. Sitting here right now at 22-23 years old."
It must have been an incredible experience for Mobley to be alongside such NBA greats. The Rockets assembled a great team in the late 90s by getting Barkley and Pippen. However, they failed to win a championship, and the team broke up a few years later. Mobley stayed with the Rockets and was traded to the Orlando Magic in 2004.
Mobley reveals talking to his idol Scottie Pippen on the call after being drafted
Cuttino Mobley was a huge Scottie Pippen fan back in his college days. He even used to carry a picture of Pippen in his wallet. The Rockets drafted him in 1998 and arranged a phone call with Pippen.
"Everybody watching it and everything like that. During the break, the Houston Rockets selected 41st pick, Cuttino Mobley. We go crazy the moment. The phone call was Rudy Tomjanovich (the then-Rockets coach), Scottie Pippen," Mobley said.
He continued: "I nearly pooped my pants. I could not believe it. Scotty Pippen's on the phone. I could not believe this."
ADVERTISEMENT
Article continues below this ad
Mobley also revealed that he idolized Scottie Pippen and Eddie Jones in his college days. He got the opportunity to play alongside Pippen, but not Eddie Jones. However, he played against Eddie Jones on several occasions during his 10-year-old NBA career.
ADVERTISEMENT
Article continues below this ad
WATCH THIS STORY: How Many Kids Does Billionaire Michael Jordan Have? What are They Doing Now?
Mobley last played for the Los Angeles Clippers in the NBA. However, he later took to the court in 2017, playing for Power in the BIG3. He even helped them win the 2018 edition.