"I Didn't Leave College for $75,000": Forced Against His Wishes, 302lbs "Fat Lazy" Charles Barkley Nearly Made a Decision That Could've Cost Him His NBA Career
Published 01/24/2023, 1:50 PM EST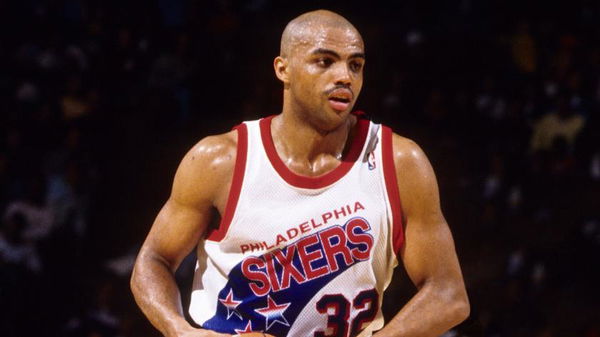 NBA legend Charles Barkley is one of the best players ever despite not winning a ring. After his retirement, the Philadelphia 76ers honored him by retiring number 34 and with a statue of Barkley outside their training facility. Barkley was inducted into the Naismith Memorial Basketball Hall of Fame in 2006. He also made it to the NBA 75 team that was announced last year. However, it could all have never happened because of his actions before the NBA draft.
Barkley was one of the best prospects coming from three years of successful college basketball with the Auburn Tigers. He was projected to be the fifth pick for the 76ers. However, the Sixers had one condition for him: lose weight.
Charles Barkley did not want to join the Sixers
ADVERTISEMENT
Article continues below this ad
During an interview with Graham Bensinger, Barkley talked about the whole ordeal with his weight before the draft. The Power Forward weighed over 280 lbs during the pre-draft workout with the Philadelphia 76ers. The Sixers wanted him to reduce his weight to 270 lbs. But he then came to know that the team could only offer him a minimum contract of one year $75K because of the league's hard cap. Barkley was disappointed with this and did not want to join the Sixers. The Hall of Famer recounted, "I said, 'I didn't leave college for $75,000.'" 
So he decided to gain more weight by binge eating in the hopes they won't draft him. But he had just two days before he will be weighed by the Sixers again. Barkley then proceeded to explain the things he consumed to gain weight in two days. The 11-time All-Star added, "So we fly to Philly, I get on a scale, I'm like 302. Harold Katz cursing me, 'You fat lazy blah blah blah. Just get out of here.'"
READ MORE – "He Got a Sickness": Michael Jordan Once Tore Apart 'Bestfriend' Charles Barkley on Oprah Winfrey's Show in 2005
ADVERTISEMENT
Article continues below this ad
Team owner at the time, Harold Katz, was furious with Barkley. Despite this, the 76ers selected him as the #5 pick of the 1984 NBA draft much to the displeasure of Barkley. However, he later found out the team had traded away two players which resulted in him getting a four-year $2 million contract and he was happy.
Barkley risked it all
Charles Barkley had a sour start to life with the Philadelphia 76ers because of his concern about his contract. However, things changed soon with his massive performances. He became a crowd favorite in Philly and he is still loyal to the club as well. He recently shared his love for Philadelphia by supporting the Philadelphia Eagles in the Divisional round.
ADVERTISEMENT
Article continues below this ad
WATCH THIS STORY – Set to Become $250 Million+ Richer, is Billionaire Michael Jordan the Owner of the Jordan Brand?
But Barkley could have missed out on all this had he gained too much weight and the Sixers decided to draft him. Or even worse, if no team picked him because of his weight. However, he was fortunate enough, and the Sixers believed in his talent.