"I Didn't See This Coming": LeBron James Goes Gaga Over Philadelphia Eagles QB Jalen Hurts and Fans Are on the Same Page
Published 01/22/2023, 12:37 AM EST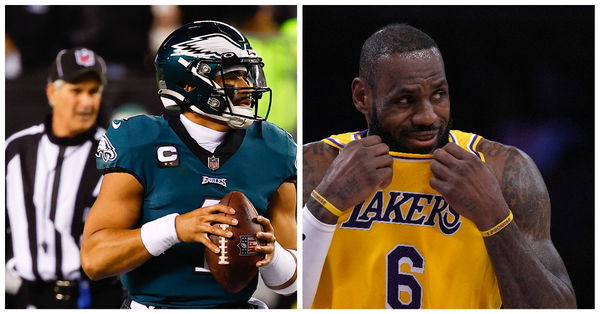 Los Angeles Lakers star LeBron James has often shown his love for the game of football. In fact, the 38-year-old was close to choosing football over basketball at a young age. Looking at the size, speed, and athleticism of 'King James', there is no doubt he would have been a great player in the NFL too. James has shown his support and love for several NFL players through his tweets. One such tweet recently showered appreciation toward the Philadelphia Eagles QB Jalen Hurts. 
Jalen Hurts is top-10 in yards covered and 14th in no. of touchdowns this season. Moreover, in today's playoff win against the New York Giants, Hurts continued to prove his versatility with his performance. Furthermore, LeBron James' tweet on Hurts has caught the attention of both the NBA and NFL worlds. 
LeBron James has high praise for Eagles QB Jalen Hurts
ADVERTISEMENT
Article continues below this ad
Jalen Hurts has 3,701 yards and 22 touchdowns, along with a quarterback rating of 66.4% this season. In his performance against the New York Giants, the 6'1″ QB had 154 passing yards and made 2 touchdowns. LeBron has never failed to share his takes and views on the NFL games. Fans joined the four-time NBA champion in praising Hurts for his game. 
Here are some reactions from fans on Twitter: 
I didn't see this coming thought it would be a one score game. Eagles are the real deal

— s (@trillsamsonite) January 22, 2023
The Special ones always make it look easy, simplicity is an art.

— Mohamad El Nsouly (@Nsoollz) January 22, 2023
Jalen Hurts is the MVP I fear

— Ahmed/The Ears/IG: BigBizTheGod 🇸🇴 (@big_business_) January 22, 2023
The Eagles made a statement with their huge 38-7 win against the New York Giants in the NFL Divisional round. They will now face the winner of the San Francisco 49ers and the Dallas Cowboys in the Conference Championship game next Monday. The excitement for a potential face-off between Patrick Mahomes' Kansas City Chiefs and Jalen Hurts' Eagles in the Super Bowl is over the roof. 
Mahomes put up a game-winning performance against the Jacksonville Jaguars, defeating them 27-20. Moreover, Mahomes covered 195 yards along with 2 touchdowns to seal their spot in the next round. 
ADVERTISEMENT
Article continues below this ad
Does LeBron have a history in football?
Apart from watching the game, the NBA veteran also played football for two seasons during his high school days. Even though he received several offers from big schools, James did not want to leave the opportunity of joining the NBA. In addition, James has made a total of 103 catches and covered 2,065 yards along with 23 touchdowns in both his sophomore and junior years in college.
Watch this Story: "LeBron James floored by Kevin Durant ending a man's career with his 'Iconic' move during Nets vs Wizards
ADVERTISEMENT
Article continues below this ad
Many NFL athletes and analysts believe LeBron James would have been an all-time great in football too. However, we will never get to know what the Lakers star was capable of in the NFL.
Do you think LeBron would have been an all-time great if he joined the NFL instead of the NBA? Share your thoughts in the comments below.