"I Don't Care if He's on Crutches": NBA Fans Go Berserk as 15-Year-Old Son Bryce Could Be the Key Factor in LeBron James' Future
Published 08/31/2022, 7:30 AM EDT
Heading in for two more seasons with the Los Angeles Lakers, LeBron James is still a powerhouse. At 37, he put up some staggering numbers that arguably broke the thresholds of longevity in the NBA. However, his end goal is far beyond just a couple of more years. Notably, the Akron Hammer's priority lies in playing alongside his eldest son, Bronny James.
The NBA universe was shattered on hearing James' commitment to playing alongside his son, Bronny. The high school athlete is making serious noise as he continues to impress. The 17-year-old will be eligible to enter the NBA draft in 2024. As LeBron's contract stands, the King has a player option for the season. Hence, the team that lands Bronny could automatically get the rights for one of the greatest players of all time.
ADVERTISEMENT
Article continues below this ad
Playing alongside Bronny seems crazy as it is given the Los Angeles Lakers forward will be 39. However, it seems there is another twist in the tale. Discussing the matter with Sports Illustrated, LeBron James revealed he is paying attention to draft picks in hopes to play with both his sons. Bronny and Bryce.
LeBron James wants to play with both his sons
James' younger son Bryce made quite the name for himself after his unreal growth spurt. In just a matter of one year, the 15-year-old shot up and is now taller than Bronny. The father and sons have been spotted working out together multiple times. His elder brother is just a couple of years away from the big league. However, Bryce still has a long time to go to keep his aspirations of entering the NBA draft.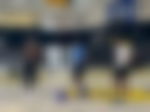 However, it seems time isn't the biggest factor in LeBron's decision. Recently gracing the cover of Sports Illustrated, LeBron James covered a plethora of topics. However, the one that shocked fans the most was his plans for the future. Now, it isn't just Bronny, but the four-time MVP wants a seat alongside Bryce as well.
James said: "I'd definitely be looking at who got first-round picks in 2024, 2025, things of that nature; 2026, '27. I pay attention to that type of stuff." 
NBA fans shared their views on LeBron James' comments. Here are some of the best reactions from NBA Twitter:
Whether you like Bron or not, idk I feel like you gotta root for his and his son's health to make this happen. This would probably be a once in NBA history moment. A dad and his two sons ballin on the same team? Lord let it happen! https://t.co/Ks1vaAJL1O

— Isaiah (@Mr_Tom_Ford) August 30, 2022
ADVERTISEMENT
Article continues below this ad
History has shown LeBron has no problems with the miles on his legs. However, playing into his 40s could be a bizarre idea. The Akron Hammer was still as prolific as ever putting up almost 30 points every night last season at the age of 37. But even if LeBron James manages to do the impossible, some sequences need to happen.
The biggest remains Bronny and Bryce both making it to the NBA. While their father is arguably one of the greatest of all time, they need their talents to speak. In addition, they need to land up on the same roster. So far, both the sons of the James household are holding to the dream. Bronny is one of the top prospects in his upcoming draft and is constantly showing signs of evolving. On the other hand, while still young, Bryce has the skills to back it up. Already 6'6″, the 15-year-old can dunk and has showcased great handles.
ADVERTISEMENT
Article continues below this ad
WATCH THIS STORY: Lakers legend Kobe Bryant's childhood home: Where did he grow up? 
The NBA has never seen a father-son duo come up. However, with LeBron's vision, even a family trio could take over the league. While the chances remain slim, do you want this historic event to happen? Let us know your views in the comments below.