"I Forgot": Shaquille O'Neal, Who Burnt $1 Million in 24 Hours on Luxuries, Ignites Weird Feud with Rapper
Published 12/10/2022, 10:30 AM EST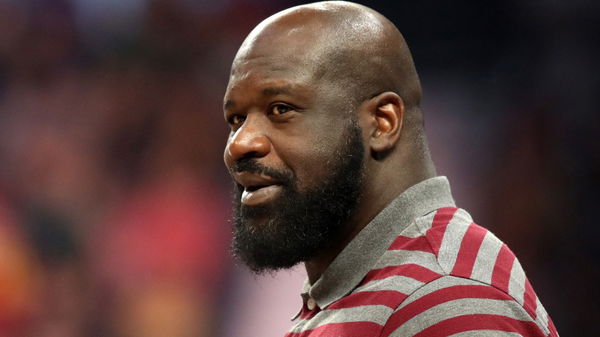 Back in the day, NBA legend Shaquille O'Neal was known to be a spendthrift. In fact, he was known for buying expensive luxurious products without much thought or consideration. The Big Diesel once even spent a million dollars in the span of just 24 hours. However, Shaq learned to mend his ways pretty soon and developed a more healthy relationship with his finances. And now he seems to have ignited a weird feud with a rapper about his spending habits.
Shaq was the number one draft pick and had several endorsements when he entered the league. That meant he received a very large sum of money at a young age. And like any young player, Shaq went on a splurge, often spending money on expensive extravagant things. The Los Angeles Lakers icon also had fake currency made in his name. Recently, Shaq ignited a tiff with rapper Soulja Boy on the issue.
ADVERTISEMENT
Article continues below this ad
Shaquille O'Neal calls out Soulja Boy for claiming his record
Controversial rapper Soulja Boy made headlines after he claimed that he became the first rapper ever to print a million-dollar bill. He posted a video of him showcasing his fake currency. However, the famous rapper was in for a surprise as he got a reply from NBA legend Shaquille O'Neal pretty soon.
Soulja Boy is getting a kick outta being proved wrong, for a change — after Shaquille O'Neal stepped up to make it clear HE is the first "rapper" to possess a one million dollar bill. https://t.co/bloJpa6v8O

— TMZ (@TMZ) December 9, 2022
As the video was going viral, Shaq commented on it and claimed that he did it first. As per reports, the 7'1 giant said something like, " I did that way back in '92 when you were just 2."
Soulja Boy was stunned, but he took it lightly and acknowledged that Shaq was the first one to do it. He had supposedly forgotten that Shaq was a rapper before. The 32-year-old said, "I forgot." Incidentally, the Big Aristotle has four rap albums to his name, with his last one coming out in 1998.
Shaq's Million Dollar shopping spree
ADVERTISEMENT
Article continues below this ad
Shaq not only had a Million dollar bill to his name, but also went on a million-dollar shopping spree once. When Shaq got his first big check, he wanted to buy his dream car, which was a Mercedes.
So he went and got one. But then his dad asked him why he didn't receive a similar present. So Shaq went and bought another one. After that, it was his mom's turn, and he obliged by buying another car.
ADVERTISEMENT
Article continues below this ad
WATCH THIS STORY: Rockets legend chucks Shaquille O'Neal on a Christmas tree like a piece of paper
Afterwards, he also went on a jewelry shopping spree, which ended with him spending a million dollars in total. After all this, he got a call from his bank manager, who explained to the four-time NBA champion the importance of saving up. Shaq later became smart about his investments and started building his wealth, a habit which has now amassed him a staggering net worth of $600 million.
Edited By: Satagni Sikder