'I Got Upset': Knicks Legend Patrick Ewing Reveals How he Dealt With the Humiliation During a Security Check
Published 03/15/2021, 11:17 PM EDT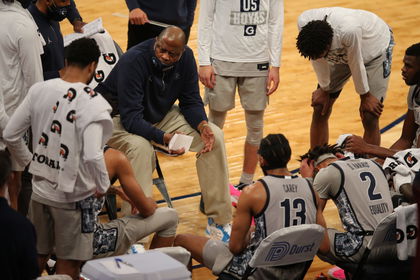 ---
---
Patrick Ewing was a household name in the late 80s and during the entirety of the 90s. He was the sole reason the Knicks were back in title contention. Today, he is mostly a forgotten hero whose name got buried under all the other greats the league produced over time. 
ADVERTISEMENT
Article continues below this ad
As much as it will leave his fans in utter disbelief, the Madison Square Garden security recently failed to recognize him. It was unbelievable for the Hall of Famer to see how he had to prove his identity in an arena that belonged to him for at least 15 years.
Knicks' Patrick Ewing and the dent on his reputation
ADVERTISEMENT
Article continues below this ad
The whole scene at the MSG left the 58-YO NBA legend upset. He is presently the coach for Georgetown, and he was at the facility for their Big East Tournament. That's when he had an embarrassing moment with the guards who asked for his credentials.
In a recent interview, the Big Pat detailed, "The second time I got stopped was, I went to use the restroom, and I was walking back to the locker room because all these different teams were there and not enough locker rooms. So they made a space outside of the Knicks locker room. So I went, and the lady is like, 'I need your pass.' And first I got upset because it's in the middle of the game. I said, Miss, I'm not trying to be rude, but you see that picture standing there, that's my picture right there. So I shouldn't need a pass… but people make mistakes, not everybody knows who I am, I understand that. It's been a long time since I played there. It ticked me off then, but it's in the past."
While many people commented to show their support, notable journalist Ariel Helwani's tweet stood out. He called it "Blasphemous" and added that Ewing should have never been asked for a pass.
Read also – Patrick Ewing Reveals How Michael Jordan Still Mocks Him For Not Being Able to Beat the Bulls
Sir Patrick's reaction did not impress Charles Oakley
ADVERTISEMENT
Article continues below this ad
Adding fuel to fire, Patrick Ewing's own former teammate, Charles Oakley, made a controversial comment. Charles, who played 10 seasons for the Knicks, addressed Pat and said, "This man (Dolan) offered you a D-League job. There's no respect behind your name. Why are you mad now because they asked you for your (credential)? When they offered you a D-League job that's when the respect went out the window."
Patrick Ewing played 1039 games for the Knicks, and perhaps 500 odd games inside Madison Square Garden. He was the prime reason the facility sold tickets and filled the stadium to its highest capacity in all those years. He averaged 22.8 points, 10.4 rebs, 2 assists, 1 steal, and 2.7 blocks at 50.8% field goal accuracy for the Knicks. The man failed to win a ring, but he stayed loyal to the franchise and he would certainly not want this treatment as a result of that loyalty. 
ADVERTISEMENT
Article continues below this ad