"I Had a Wife and Coca*ne": Ex-Lakers Champ Discloses Khloe Kardashian Relationship Regrets
Published 12/21/2022, 3:10 PM EST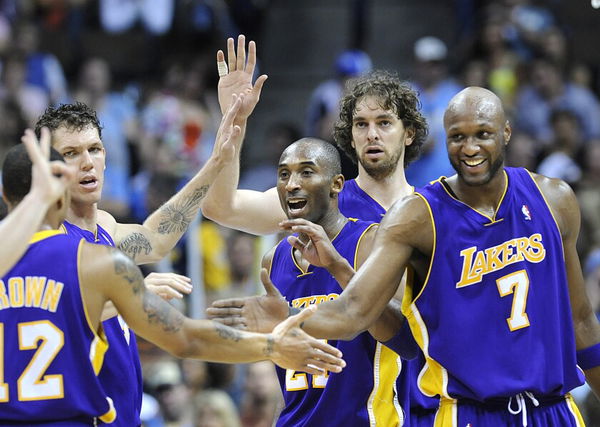 A former Los Angeles Lakers champ is set to release an intensely personal documentary that is expected to capture the imagination of NBA fans. The former NBA star was a key player for the Lakers in winning back-to-back championships in 2009 and 2010. Recently, he disclosed his regrets regarding his relationship with reality TV celebrity Khloe Kardashian in the trailer of the documentary.
The Lakers champ in discussion is Lamar Odom, who was with the Lakers from 2004 to 2011. Odom got married to Khloe Kardashian in 2009. Kardashian filed for a divorce in 2013 after four years of marriage and it was finally approved in 2015 . Odom recently laid out the mistakes he made in his personal life that led to his separation from Khloe Kardashian.
Lamar Odom opens up on cocaine addiction and relationship with Khloe Kardashian
ADVERTISEMENT
Article continues below this ad
In a recent trailer of the TMZ documentary titled, "Lamar Odom: Sex, Drugs & Kardashians', the Lamar Odom made a bold revelation about his problems with Khloe Kardashian and his struggles with substance abuse. Odom's NBA journey took a sudden dip after his exit from the Lakers in 2011. In fact, his NBA career came to a disappointing end in 2013 after two more seasons. The same year, the former Lakers star was arrested on DUI charges and faced three years of probation and alcohol abuse treatment.
Recently, the two-time NBA champ made a bold claim regarding his addiction to drugs. Talking about his substance abuse problems, Odom stated, "Drugs– that was my girlfriend. I had a wife and cocaine."
Moreover, Odom revealed that he hid his drug habits from his former wife Khloe Kardashian, but had to eventually tell her about it, "I mean, behind the scenes, I put her through some s**t. The things that y'all think y'all know is crazy. But the stories that y'all don't know is really crazy."
Odom reckoned that he had some really crazy times being addicted to drugs. However, his dependence on drugs caused troubles in his marriage with Khloe Kardashian, eventually leading to their separation.
Lamar Odom's addiction almost killed him
ADVERTISEMENT
Article continues below this ad
Things continued to worsen in Lamar Odom's life after his divorce from Khloe Kardashian. In October 2015, he was hospitalized after being discovered unconscious at a legal brothel in Crystal, Nevada.
Due to his cocaine addiction, Odom suffered from severe physical damage. He went through kidney failure, several heart attacks, and a dozen strokes. Moreover, Odom was put on life support and was comatose at a hospital in Las Vegas before eventually regaining consciousness.
ADVERTISEMENT
Article continues below this ad
Watch This Story – 14 years after father LeBron James' son Bronny follows his footsteps by signing an iconic deal with a $3 billion brand
Edited By: Satagni Sikder