'I Hate You DJ': Jimmy Butler Blames Former Miami Heat Teammate For Defensive Issues Earlier
Published 04/13/2021, 6:30 AM EDT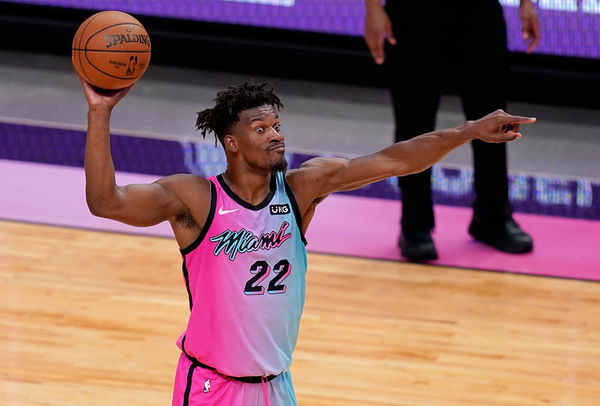 ---
---
The Miami Heat improving their defense as the season progresses has been vital in them climbing the ladder in the Eastern Conference. If it wasn't for that, their poor start to the season would have landed them in jeopardy. Just recently, the Heat faced the Portland Trail Blazers and defeated them 107-98 and Jimmy Butler couldn't be happier. However, he also couldn't help but pass brutal comments on former teammate, Derrick Jones Jr., after their win.
ADVERTISEMENT
Article continues below this ad
Jimmy Butler roasts former teammate
The Miami Heat are currently fifth in the East. Having just won two back-to-back games, they have improved their record to 28-25. One of the latest victims to fall to Miami's wrath has been the Portland Trail Blazers. Portland got a reality check about what a true NBA defensive team looks like as the Heat forced 17 turnovers and juiced out 28 points from them.
ADVERTISEMENT
Article continues below this ad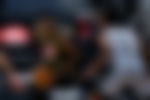 By halftime itself, the Heat had nil turnovers, while the Blazers already had 12. Their tight defense did not let even Damian Lillard score more than 12 points. Jimmy Butler was as good as ever, along with Victor Oladipo working his magic.
When asked about how there was such a big transition on the defensive end, Butler did not hold back from blaming his former teammate. "We got rid of Derrick Jones Jr. Got his a** up out of here. Started guarding somebody," asserted Butler laughingly. He even concluded the comment by saying, "I hate you, DJ."
Was Derrick Jones Jr. that bad at the Miami Heat?
Butler has always grabbed attention for taking jabs at his teammates. Although he has gotten a lot of heat because of this, he still does not shy away from doing so.
ADVERTISEMENT
Article continues below this ad
To be fair, the Miami Heat had a very productive defensive playmaker when Jones was playing for them last season. His athleticism and length were vital for the team. Unfortunately, Miami could not give him the desired contract during his free agency, so he took his talents to the Blazers instead.
With Portland, he has proved to be an impactful wing defender. The Blazers are currently standing sixth in the Western Conference with a 31-22 record. Also, their superstar, Lillard, is in the race to grab the MVP award this season. Looks like only time will tell whether Butler's Miami Heat will go deeper in the playoffs, or his former teammates' new team.
ADVERTISEMENT
Article continues below this ad
Read also- Miami Heat Guards Tell Story Of Jimmy Butler One-Upping Them By Practicing At 430 AM