'I Know When You Close Your Eyes': Carmelo Anthony Remembers a Warning from Former NBA Commissioner
Published 09/23/2021, 1:00 AM EDT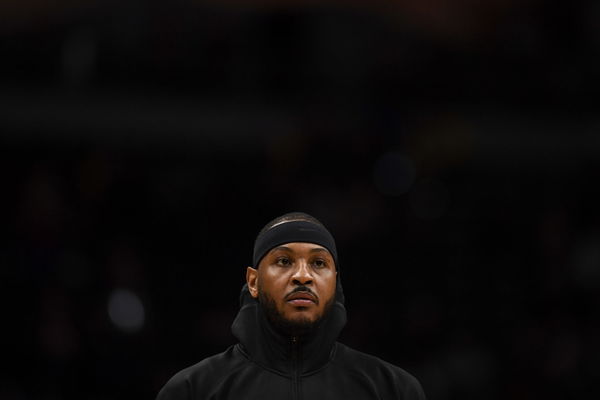 ---
---
Most NBA players come from humble beginnings & rough early days. So they're tough, holding an innate killer instinct with a zero-fs-given mentality. And when swords rival against blades, it's always a war. So one such brawl took place at the Madison Square Garden when Carmelo Anthony became the villainous poster boy.
ADVERTISEMENT
Article continues below this ad
The basketball world had just recovered from the Malice at the Palace brawl in Detroit where Ron Artest and men were convicted. But just two years from then, this crazy incident at MSG further stained the NBA's image into that of a mob. So David Stern had a literally stern response this time around.
ADVERTISEMENT
Article continues below this ad
When NBA commissioner behaved like an FBI director
Recently, Carmelo Anthony remembered those days after the incident. He was on a 15-game suspension when a call from David Stern shook his world upside down. It was a 5'9" 64-YO man taking on a mischievous 6'7" 22-YO with utmost dominance.
Melo detailed their conversation in Mr. Stern's words and expressed, "I know who you're with. I know where you living at, I know where they live at. I know when you close your eyes and when you wake up and I know what they're doing, he's telling me. You either tell them to stop or you cut them off. I'm like damn, how the f—." 
Imagine being a 3-YO in the league and getting to hear this from the commissioner himself. This was the overall #3 pick and his eye-opening moment early in his career. 
As Melo further added to share his shock, "That's when I know the NBA was the part of feds. He said, I gotta make an example out of you. That's a fact. I know everything. I know your whole crew, I know who is doing what. If I am giving you a $100 million, I need to know everything."
Well, David Stern had an experience of 22 years as the league leader under his belt when Melo pulled that stunt. There was no way the well-respected executive could've allowed his life's work to look like a goons' business.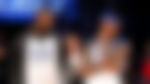 What exactly had happened that night with Carmelo Anthony and the Knicks?
ADVERTISEMENT
Article continues below this ad
During the December 16, 2006, game between the Knicks and the Nuggets, a major fight took place. It all started with a fight between the Nuggets' JR Smith and the Knicks' Nate Robinson. Although the Nuggets were 119-100 ahead, the Knicks weren't ready to take that humiliation without retaliation.
So the Knicks decided to not let it turn into a blowout loss and began playing a visibly physical game. That led to a crazy fight with little Nate making huge blows. And just as things escalated, Carmelo Anthony came out of nowhere and sucker-punched Knicks' Mardy Collins. The situation was completely out of hands.
Watch This Story
ADVERTISEMENT
Article continues below this ad
That night forced the NBA Commissioner to keep a close eye on Melo and Co. so that this never gets repeated when the two teams next meet. That strategy worked and a goody-good Melo went on to become an All-Star (later joining the Knicks). We welcome your comments on this infamous incident in the section below.
Watch this story – Weirdest Things Carmelo Anthony and Others NBA Players Have Bought