"I Want to Be Open": Mother of Carmelo Anthony's 15-Year-Old Son Spills Nothing but Truth on Future Relationship
Published 01/29/2023, 12:16 PM EST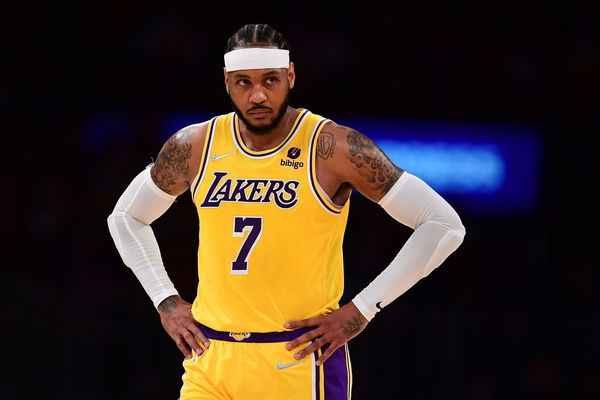 Carmelo Anthony and La La Anthony's divorce in 2021 was one of the most highly publicized incidents in the NBA circles. The renowned actress decided to call off her 11-year-long marriage with Melo after multiple infidelity rumors surrounded the former Los Angeles Lakers star. While the former duo divorced nearly two years ago, they continue to co-parent their 15-year-old son Kiyan. Recently, La La Anthony made some big revelations about her failed marriage with her ex-husband. Moreover, the Think Like a Man star also ended up revealing some truths and expectations about her future relationship.
La La Anthony recently made an appearance on The Shade Room's YouTube channel alongside host Angelica Nwandu. The popular TV personality spilled some beans about the regrets she has about her longtime relationship with Carmelo Anthony and the workings of their co-parenting dynamics. Moreover, La La Anthony revealed some interesting details about what she was looking for in her future partner.
Ex-wife of Carmelo Anthony Reveals her Type
ADVERTISEMENT
Article continues below this ad
In a recent The Shade Room interview, La La Anthony shared that she regretted getting into a serious relationship with Carmelo Anthony at such a young age. Moreover, the 43-year-old actress reckoned that if she could change her past she would have taken more time to understand the concepts of marriage, love, and relationships before getting into what she called a 'heavy relationship'.
Meanwhile, the host, Angelica Nwandu asked La La Anthony, "What's your type?" In response, the renowned celebrity revealed, "My type? Hmm! You know what the truth is? I want to be open like I don't wanna just have a type, like I want to be open to, maybe a type I wouldn't think was my type or maybe something that's not the norm what people would expect from me."
Further, the TV personality added, "Because I think when you are dating, you do have to be open. Because if you have this super checklist, then I don't think you are gonna find anybody."
ADVERTISEMENT
Article continues below this ad
La La Anthony suggested that she did not have a list of specific types of traits she would look for in a future partner. The renowned VH1 host reckoned that she would rather be open to the idea of exploring and not compromising by settling with the conventional norms.
La La Anthony admits her fondness for uniqueness
While talking about the kind of partner she would like in the future, La La Anthony shared that she would want a person with a person who knows how to communicate and have a unique personality. Moreover, La La stated that honesty was a trait she was looking for. She admitted to preferring a person who is comfortable in their own skin.
ADVERTISEMENT
Article continues below this ad
WATCH THIS STORY: The Weirdest Things Michael Jordan, Carmelo Anthony & Other NBA Players Have Bought
Thus, after the end of her relationship with Carmelo Anthony, La La Anthony seemed to be ready to take on a new adventure in her love life.
Edited By: Satagni Sikder