'I Was Star-Struck': Allen Iverson Explains How It Felt Surreal to Face Michael Jordan
Published 08/24/2021, 12:54 AM EDT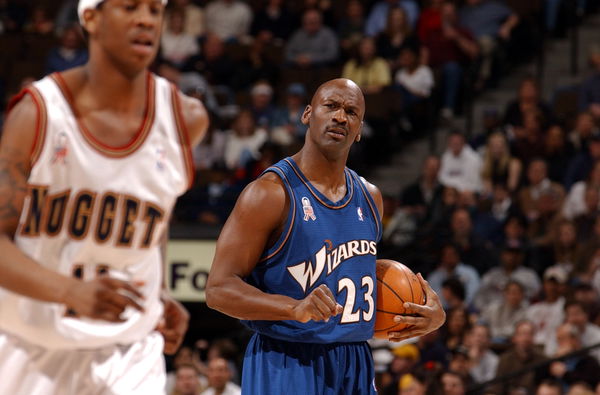 ---
---
The presence of Michael Jordan on the court was larger than life. A bully, a trash talker, cruel with the ball, and NBA's own moonwalker, MJ was a cult phenomenon in his playing career. With the exception of Kobe Bryant, he was able to intimidate any and every new entrant who passed through his shadow.
ADVERTISEMENT
Article continues below this ad
Two such rookies who came across MJ and faced an instant bombardment were Al Harrington and Allen Iverson. If anything, the latter's Hall of Fame address covered his most candid feeling about meeting the GOAT. 
ADVERTISEMENT
Article continues below this ad
When Michael Jordan trash-talked Al Harrington
Albert Harrington entered the league in 1998 when MJ had just retired for the second time as a Bulls player. So it was not until 2003 when they could actually get a memorable face-off. That game against MJ became a lasting memory for Al because of the ref's hard calls and other things that followed the night.
In a recent interview, Al revealed about his experience and detailed, "I actually had a good game, and he started talking and called everybody a #%@# Finally I got to a point, I know it's Michael Jordan, but damn well keep, but he go keep calling me a h*e. I had to wear it. After that game went to overtime, and I had 35 that game and he had 41 and they won the game. After the game, he signed some shoes and sent it to me… and I didn't even ask for… So it was a surreal moment for me."
The Wizards surprisingly won that game 107-104, and Al's 14/22 field goals went down in the drain. MJ in that night was a force from the free-throw line and converted 10/12 which made all the difference.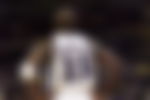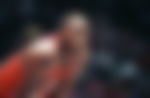 Allen Iverson and his Jesus moment
ADVERTISEMENT
Article continues below this ad
Allen Iverson took the league by storm as soon as he entered as a tiny magician. His crossover on MJ is still one of the most popular reels and that summed up his expertise with basketball. However, he too was intimidated by Air Jordan.
Just as he exclaimed, "I was Bulls fan coming up because of him. But while he was in the league, I hated the Bulls more than any team in the league. Once I got into the league and heard how they talked about us. I'll never forget my first time, I talked about it in my HOF speech. I wasn't lying at all man, he didn't look real to me, I was star-struck. I'm looking at his knee brace, his shin… they teased me before the game because they was like you're not going to play your game because Mike on the floor."
ADVERTISEMENT
Article continues below this ad
Imagine being in a competitive mindset and yet being in awe with your childhood idol trash-talking you. That was how Allen started it all against King Jordan. So do you think Allen Iverson in his prime could regularly beat Jordan guarding him? Help us know in the comments section below.
Watch this story – Allen Iverson, Kevin Durant, and Other Players Who Turned Their Lives Around Upon Joining the NBA League