"I Would Be So Scared To Talk": LeBron James Getting Roasted for Being "Old" Leaves Lakers Fans in a Frenzy
Published 01/17/2023, 7:30 AM EST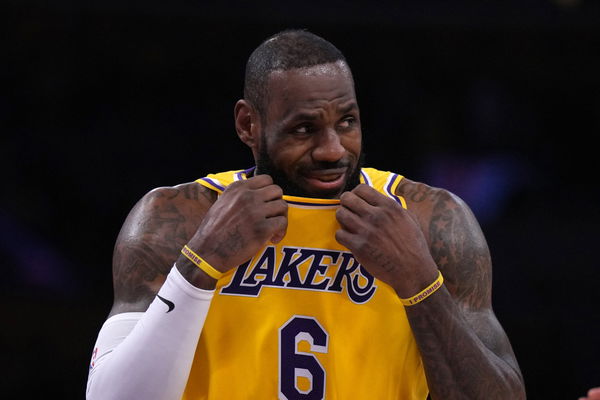 NBA superstar LeBron James turned 38 years old and entered his 20th season last year. However, it seems like James has a good few more years left before he decides to retire from NBA. The 4x NBA champion had previously expressed his wish to play his last season with his son Bronny James. There is no doubt that King James still remains one of the best players in the league and is lacking in no way. Despite that, a certain Houston Rockets star couldn't help but remind the Los Angeles Lakers superstar of his 'old age'.
The Los Angeles Lakers faced the Houston Rockets at the Monday night game held at Crypto.com Arena. LeBron led the Lakers to victory over the Rockets ending their three-game losing streak.
NBA Twitter hilariously reacts to Rockets star's jab on LeBron James
ADVERTISEMENT
Article continues below this ad
LeBron James was selected by the Cleveland Cavaliers at the 2003 NBA draft. The 18x NBA All-Star was only about 19 years back then. He then went on to create a legacy that arguably matched that of NBA legends Michael Jordan and Kareem Abdul-Jabbar. While it seems like James is in no rush of tipping his hat and walking out of the court for good, Houston Rockets star Jabari Smith Jr. nevertheless took a sly dig at the Lakers forward. During the Lakers vs Rockets game, Smith called out to James to let him know that he had played his NBA debut game with Smith's father.
Jabari Smith Jr. tells LeBron he played against Jabari's dad in his first-ever NBA game. 😂

— Hoop Central (@TheHoopCentral) January 17, 2023
"Hey, you played against my dad, your first NBA game ever, Sacramento. You feel old don't you?" Smith Jr. asked James.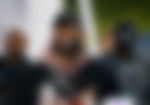 The Rockets player's father, Jabari Smith Sr. was drafted into the league in 2000 and played for the Sacramento Kings. Watching the unexpected exchange between the two NBA players, fans reacted in the most hilarious way. Below are a few of the comments.
I would be so scared to talk to LeFirstNbaGame

— Pissy Pamper (@yungggboyyy) January 17, 2023
he's that old and he's still better than curry prime😭😭

— ball town (@mvp_hoops) January 17, 2023
It's actually unreal how we think 38 is old! In sport it is but he's still young as😅

— Mason Foster (@MasonFozz21) January 17, 2023
That's like when you're a kid and you tell you're teacher that they taught your parents when they were kids. 😂 Makes them feel REAL old 💀

— Malik Monk Fan (❤️ + 🔁 pinned 🙏 (19-24)) (@wsgimjosh) January 17, 2023
Bron prolly feel like a grandpa now 😂😂

— James Awi (@jamestheg3) January 17, 2023
And still the best player on the court. And mfs say he ain't goat

— Burna (@burnaboi_) January 17, 2023
Lakers vs Rockets
ADVERTISEMENT
Article continues below this ad
LeBron James' Los Angeles Lakers defeated the Houston Rockets by 140-132. The 4x NBA Finals MVP led his team to victory scoring 48 points, eight rebounds, and nine assists. Russell Westbrook added 24 points, five rebounds, and four assists. The Lakers, 20-24, are currently placed 13th in the Western Conference rankings.
On the other hand, the Rockets are in much worst shape than the Lakers. The team lost their 11th consecutive game against the Lakers and is currently at the bottom in Western Conference.
ADVERTISEMENT
Article continues below this ad
WATCH THIS STORY: "Promise Me You Won't Go and Talk…": 18-Year-Old LeBron James Rejected a $10 Million Check in the Hopes of a Bigger Payday 
Turkish basketball player Alperen Sengun scored 33 points, 15 rebounds, and six assists in the losing game. His teammate Jalen added 23 points and five rebounds. Whereas, Jabari Smith Jr. scored 14 points, four rebounds, and four assists.
Edited By: Jayant Chhabra