"I Would've Destroyed You": Michael Jordan Provoked Kobe Bryant With Bold '03 Lakers vs '91 Bulls Prediction
Published 05/15/2022, 7:30 PM EDT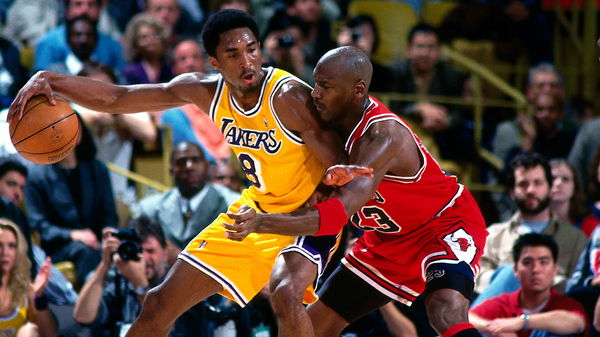 Michael Jordan was one of the fiercest competitors the game has ever seen. One of the reasons a lot of people call him the 'GOAT' is because he has never lost an NBA Final series, ever. He had played in six NBA Final series and won six NBA championships. Michael was a player for the big occasion, "Cometh the hour, cometh the man".
Another guy who fans love for his competitiveness and mentality is Kobe Bryant. The Lakers legend never lets an occasion get the better of him. Since Michael and Kobe had a brotherly relationship, Kobe was asked what Jordan was like off the camera. Kobe said that it was fun. And the reporter wanted to know whether it felt like looking at the camera since many fans believe that Kobe and Jordan are very alike. 
ADVERTISEMENT
Article continues below this ad
But Kobe said, "I mean it's fun. No, we are really different. It's crazy like, he'll compete in any and everything". He admitted that he would only compete on things that he was really good at. And said that he would never compete in things that he has no idea about. 
Kobe said that the Bulls legend would talk about basketball all day long and would ask something like what would have happened if MJ's '91 played against Kobe's '03. And the reporter asked what would have happened according to Bryant. But he revealed, "…He started the conversation with "I would have destroyed you!"… I just said "Listen, remember who you are talking to" and he just started laughing…"
Michael Jordan and Kobe Bryant's brotherly relationship
An entire generation of players took inspiration from Michael Jordan. And Kobe Bryant was one among them, he tried to emulate Jordan's moves and always tried to pick his brain. Michael took the role of a 'Big Brother' and helped Kobe with his skills and secrets.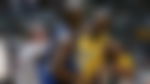 Like all brothers, Jordan and Kobe were competitive whenever they played each other. MJ was never one to go easy against anyone. And Bryant was no exception as MJ talked trash. But Kobe isn't one to budge either, he would talk trash back.
ADVERTISEMENT
Article continues below this ad
The mind-blowing part about Jordan's championships is that he did it in spectacular fashion with two three-peats. The first three were from 1991 to 93. He then took a short break from basketball to pursue baseball and then won the next three titles from 1996 to 98. 
WATCH THIS STORY – Vanessa Bryants Most Valuable Investments
ADVERTISEMENT
Article continues below this ad
His apprentice, Kobe came close to achieving this, as he had a three-peat from 2000 to 02. And then had a back-to-back from 2009 to 10. In 2011, Kobe and the Lakers lost in the second round of playoffs against a phenomenal Dirk Nowitzki and the Mavs who went on to win it all that year.
It would be interesting to watch the '91 Michael Jordan go against the '03 Kobe Bryant. Who do you think would win?