'I'd Like to Punch Him Right in the Mouth': Fritzy Calls Out Stephen Curry for His Shimmy and Mouthpiece on the Dan Patrick Show
Published 06/18/2022, 4:47 AM EDT
By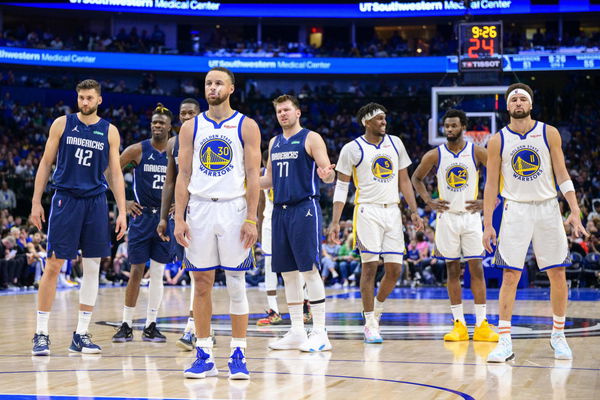 The recent episode of The Dan Patrick Show saw panelists discuss the outrageous antics that megastar Stephen Curry does on the court. The Dan Patrick Show is a radio and YouTube podcast sports talk show hosted by Dan Patrick along with Todd Fritz Patrick "Seton" O'Connor, Paul Pabst, Marvin Prince, and Andrew Perloff.
The episode aired on the 16th of June 2022, titled 'What Is Fritzy's Problem With Steph Curry?' discussed how Fritzy disapproved of Curry doing the signature 'shimmy' and chewing on his mouthpiece.
Patrick revealed that Fritzy once said that he'd like to punch Curry in the mouth. Dan said, "Fritzy gets upset. He doesn't like the shimmy, he doesn't like the chewing on the mouthpiece." Fritzy interrupted, "I don't, and I respect and love his game, but if I'm not a warrior fan, and I'm not, you know, just feeling that vibe. If I'm on the other team, I'd find that as a taunting…" But he admitted that saying that he'd punch Curry in the face was a bit harsh.
ADVERTISEMENT
Article continues below this ad
Steph had the second most merchandise and jersey sales across the NBA in 2021-22. He is one of the most loved superstars. It is possible that all would not appreciate Curry's antics on the court. More often than not, we see Curry throw a shimmy, celebrate a 4-point play, or shoot a no-look 3, and it may come off as disrespectful. 
NBA fans love Stephen Curry
Stephen Curry is one of the most liked NBA players in the league. Fans worldwide have adored the 6'3 Warriors guard for over a decade. The 4-time world champion has had a phenomenal season. In the 2021-22 season, Stephen curry became the all-star MVP, western conference MVP, the NBA champion, and the Finals MVP. He finished second overall on all-star voting with 6,019,418 votes. This shows how well-liked he is across the league, but panelist Todd Fritz is not a fan of the golden state warrior.
LeBron James now leads the NBA in the latest fan returns for NBA All-Star Voting presented by Tissot, which concludes this Saturday, Jan. 22.

Stephen Curry, Kevin Durant, DeMar DeRozan and James continue to be the top vote-getters at their respective position groups. pic.twitter.com/LBIU5BamC6

— NBA Communications (@NBAPR) January 20, 2022
Curry is a 7-time all-star and has been a fan favorite for over a decade. He is lovingly known as the 'Baby Face Assassin' across the league. He gets this name because of the harmless demeanor he possesses on the court while putting on a killer offensive show for the fans.
The last time Curry was called out for disrespecting the game
Stephen curry is not one to get into any altercations on the court either. However, this is not the first time he has displeased a media personality. During the 2015-16 regular season, he indulged in a Twitter feud with Ben Dowsett of Salt City Hoops. Dowsett questioned Steph and Draymond's lack of respect for their opponent's effort.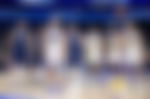 Dowsett tweeted: "Can I be honest about something? I expected just a little more respect thrown the Jazz's way from GSW's locker room than what came." To this Curry wittingly replied insinuating that the conversation Dowsett was referring to was a private one and was blown out of proportion. Curry accuses Dowsett of "reaching".
ADVERTISEMENT
Article continues below this ad
In the end, Patrick brought up several points in Curry's defense. He called Curry's shimmy worthy. Whatever Curry does, he does for the fans. Surprisingly, Curry also does it for fans on opposing teams. Curry would make his pregame shots from all across the arena for the fans. Curry uses his mouthpiece not as a taunt but as something he has done since his collegiate days.
ADVERTISEMENT
Article continues below this ad
WATCH THIS STORY: Stephen Curry's best finals performances
As of today, if there is one player in the league that should have the right to do what Stephen Curry does, it is him. He has solidified his actions and legacy by leading the Golden State Warriors to their 4th championship in 8 years.