'I'd Love to Give Him': Billboard Music Award Winner Sends LeBron James a Special Message
Published 04/13/2021, 10:31 PM EDT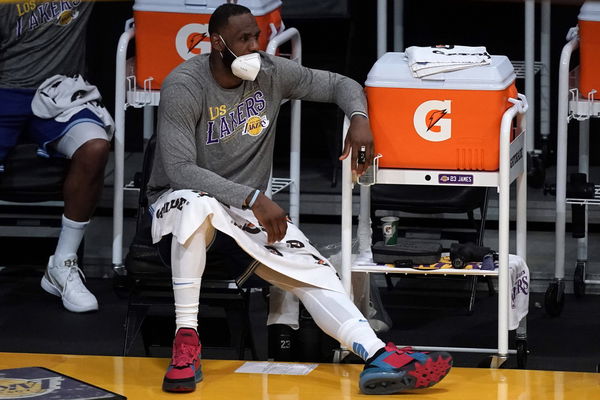 ---
---
LeBron James is the undisputed king of gaining media attention, and there's no doubting that. Be it his Bohemian fashion sense, that chinstrap beard, or an affinity towards reacting to world events, Bron is a goldmine of content. It won't be too shocking if Hollywood casting directors approach him with more serious roles given his multilayered personality.
ADVERTISEMENT
Article continues below this ad
When on the court, the camera is always hovering over Bron, almost as if it's intelligently sensitive to his movements. So more often than not, it captures a Bron having a laugh at the on-court happenings or making some funny faces. But has there been anything that the camera has captured that landed the King in trouble?
When a popular rapper reacted to an on-court incident involving LeBron James
ADVERTISEMENT
Article continues below this ad
Remember when the Lakers had a flying start to their 2019-20 season similar to what the Jazz are having this year? On the night of December 4, 2019, the Lakers defeated the Jazz 121-96 in a game where LeBron James scored a double-double. This was one of the last few games where fans were allowed to enjoy games inside basketball arenas.
So a generous and happy Bron decided to give away his signed shoes to two little fans while he was sitting on the bench. Later in the game, when Kyle Kuzma successfully blocked Utah center Tony Bradley before a layup, Bron showed his excitement by jumping on the court wearing socks. The Utah commentators found it offensive and demeaning, sparking a controversy. 
Later, a media reporter got hold of White Iverson fame rapper Post Malone to draw his reaction to the incident. The Billboard Award winner laughed upon hearing the issue and reacted by suggesting, "Hook LeBron up with some Crocs, I'd love to give him… Take it easy!" 
Is Kyle Kuzma also going Bron's way?
Over the years, LeBron James has crafted an image of being a trendsetter. Now, his much younger teammate, Kyle Kuzma, is also following the same path by developing a peculiar style statement. The 25-YO forward player is not just having a decent season, but he's also in the news for his out-of-the-box fashion. 
Kyle has come a long way in his taste of clothing. Back in 2018, Lonzo Ball had roasted Kriss Kross for wearing the same outfit twice. 
But today, the young star is all about his attire and those double-doubles. Recently, the outlier Kuz wore a suit that had multiple reflective mirrors attached to it. 
ADVERTISEMENT
Article continues below this ad
To add to that, one can't forget the trolling he received for his Christmas outfit. All-in-all, the Lakers know how to stay in the news even if it's not about basketball.
ADVERTISEMENT
Article continues below this ad
Watch story: 'Eye Fu–ing': Lakers' Kyle Kuzma Reveals the Hilarious Story Behind Him Forcing LeBron James