"Idiot": Klay Thompson Roasts Ex-Warriors Teammate After Meeting Manny Pacquiao
Published 08/01/2021, 2:20 AM EDT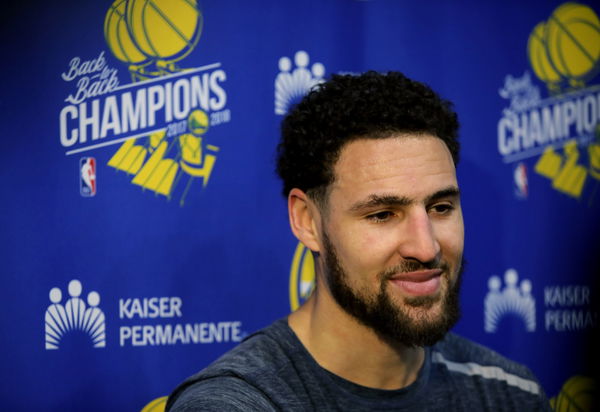 ---
---
Klay Thompson is an outdoor person who loves movement of the body more than anything. He would don a wet suit, take his yacht, and hit the bay area with his dog on any leisurely day. But apart from hooping and fishing, the star shooting guard is also a fan of professional boxing. 
ADVERTISEMENT
Article continues below this ad
Big Smokey Klay has had several moments in his eight years in the league where he almost desired to turn the NBA court into a boxing ring. However, the star mostly handled his anger well and kept from attracting those flagrant fouls. 
But recently, he targeted his own teammate on Instagram and won hearts while throwing witty sarcasm.
ADVERTISEMENT
Article continues below this ad
Klay Thompson boxed out Jonas Jerebko with a knockout punch
The 31-YO uploaded a post on Instagram to thank Manny Pacquiao for allowing him a visit to his gym workout. He described how the star shooting guard had a deal with the PacMan wherein they'd teach each other some cross-sport skills. 
Under that post, 34-YO Jonas Jerebko posted a comment asking, "Where the video of you boxing at?" and raising doubt if Klay actually learned any boxing moves. To this, the star shooter responded in a hysterical fashion by suggesting, "ÿou can view it at www.jonasisanidiot.com." Funnily, Klay's response had more than double the likes as many Jonas gathered with his banter. Notably, the 6'10" power forward played just 89 games (16 postseason games) with the Warriors.
But Klay didn't just stop there. He responded to a similar query from a Dubs Nation fan account saying, "Ha! Somewhere in Pandora's box".
Looks like Klay was in the mood to do some virtual boxing because his Achilles recovery would anyway not allow him an actual bout.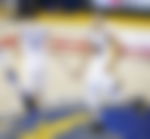 How did his meeting with Manny Pacquiao go?
ADVERTISEMENT
Article continues below this ad
The 62-win Manny Pacquiao is 11 years older than Klay Thompson and has watched Klay play basketball live. So it was Klay's turn to give back to his idol and that he did by gifting two signed sneakers to the iconic boxer. 
After a brisk meeting with Manny, Klay sat on the courtside and carefully watched Manny practice his shadowboxing warmups. Later, just for a minute or two, the GSW star entered the ring and showed off his skills to finally get a picture with his inspiration.
ADVERTISEMENT
Article continues below this ad
More than anything, Klay needs a fighter's mindset right now and perhaps that was what he gathered with that visit. Will Klay be able to outscore his opponents just as Manny throws punches on his challengers in the upcoming season? Help us know what you think in the comments box below.
Watch this story – Top 5 Fan Favorite Boxers of All Time