'I'll Probably Retire Right Now': Giannis Antetokounmpo Makes Crazy Revelation About His Retirement
Published 05/06/2021, 7:00 AM EDT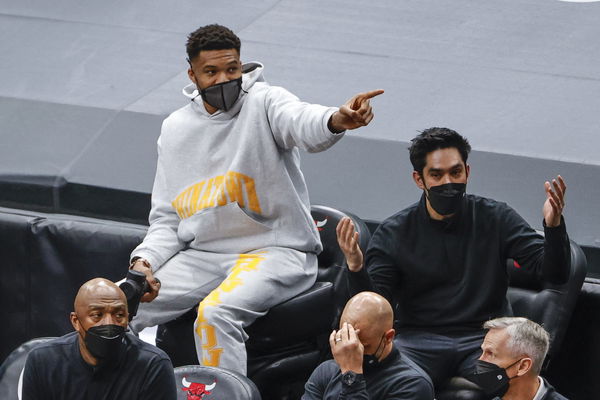 ---
---
While athletes are often the torchbearers of any sports, other constituents of the game also etch their space in fan memory. For instance, Bruce Buffer is as important to the UFC fraternity as Herb Dean is. And in the NBA, the same level of respect, especially in the mind of Bucks fans, is for Jim Paschke. He is someone very dear even to the franchise face Giannis Antetokounmpo.
ADVERTISEMENT
Article continues below this ad
Now, the news is out that the legendary announcer for the Milwaukee Bucks is about to put his mic down. So what made him take this tough decision, and how did his young fan in Giannis react to it?
Time to bid the respectful Jim Paschke adieu
ADVERTISEMENT
Article continues below this ad
Jim is an important figure to the Bucks organization for more than one reason. For starters, the 70-YO iconic sportscaster spent 50% of his entire living years with the Bucks. After taking 13 years of the initial experience, Mr. Jim joined the Bucks organization and called 2000+ games for the team. The play-by-play man had a decorated career as a broadcaster, and now he has decided to call it quits. 
In a virtual conversation with Giannis Antetokounmpo, Sir Jim expressed the reason behind the decision and said, "I never intended to work my whole life, I hope you understand. I'll tell you a story, you'll appreciate this as a father. When my son, he grew up with this business. He was born two years after I had started with the Bucks. After every Bucks, I would ask him if he wanted me to retire and be home more. He always said no… Last summer, just before his wedding, he asked me to retire. That hit home with me and I said yes I will."
The veteran announcer, who looks like a copy of philanthropist David Rubenstein, later shared his best moments with Giannis.
Read Also – Jrue Holiday Explains Why Giannis Antetokounmpo Deserved to be in LeBron James' Space Jam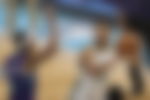 Giannis Antetokounmpo went emotional and revealed something shocking
The Greek Freak was not even born when Mr. Jim had joined the Bucks. However, he was present on the court when the legend had received the honor of completing 30 years with the organization.
Giannis Antetokounmpo, being a very loyal franchise name, felt seemingly emotional about the whole retirement thing. So, he went on to reveal something rather personal too.
ADVERTISEMENT
Article continues below this ad
The 26-YO expressed with a heavy heart, "If my son asked me, told me, dad when are you going to retire from basketball and play more with me? I'll probably retire right now."
The reigning MVP's son Liam Charles Antetokounmpo is just one-year-old, and he is one great father off the court. Given his father, 54, died of a heart attack in 2017, Giannis understands the value of family time and hence that honest comment.
ADVERTISEMENT
Article continues below this ad
Would you as a Bucks fan, miss Jim Paschke's voice? Help us know your feelings in the comments.