'I'm a Better Shooter Than Steph': Dell Curry Reveals Seth's Mentality Against Steph Curry
Published 03/18/2021, 9:50 AM EDT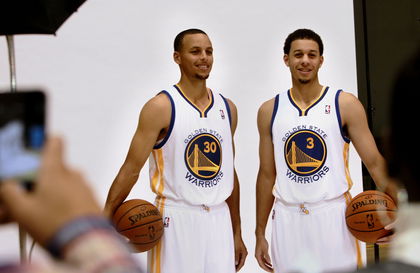 ---
---
Steph Curry and Seth Curry are two of the best shooters in the league. Just like their father Dell Curry, Steph and Seth have transformed the game of basketball, which has become more dependent on perimeter shooting.
Dell Curry recently made an appearance in the Rex Chapman show. There, the former sharpshooter opened up about both of his sons. When asked about when he realized that Steph would make it to the NBA, Dell had a rather interesting response.
"It was probably after Stephen's sophomore year. In college freshman year I'm like 'yeah he's he's a pro player' but after you know in it sometime in his sophomore year when they made that big run, uh, to the elite eight. 'Um yeah, okay, he's gonna be a top player, top pick in the draft now'."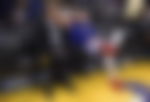 He added, "Did you know he's gonna be a two-time, you know, MVP, unanimous MVP & three-time champion? A lot of factors have to go into that. But I knew he had the skill set to play in the league, play well uh, do whatever it took, and work ethic."
In the 12 seasons Steph has played, he has transformed the game and has won three NBA championships with a dominant Warriors team. Currently he is having one of his best seasons in the NBA, averaging 29.0 points, 6.2 assists and 5.3 rebounds per game, and is on his way to lead the Dubs to the 2020-21 playoffs.
Dell Curry reveals Seth Curry's mentality against Steph Curry
While Steph continues to stay in limelight, brother Seth has become one of the best shooters in the league.
Dell also revealed the mentality of his younger son, Seth.
"Seth had the mentality that 'If Steph is going to do it, I know I can do it'. 'What are you talking about?' 'I just kill him in the backyard' That is Seth Curry's mentality right now."
"He'll tell you, 'I'm a better shooter than Steph. He just gets more shots than I do. He has free rain, he touches the ball more, I'm a better shooter than him right now' that was his mentality the entire time."
For the first time in his seven seasons in the NBA, Seth finally is in a team who is a serious competitor for the NBA title this season. Playing alongside the likes of Joel Embiid and Ben Simmons, the 30-year-old isn't only a spot-up shooter, rather is an integral playmaker for the team.
He is averaging 12.9 points, 2.9 assists and 2.2 rebounds per game, giving a much needed shooting boost to the team. His brother might have won three championships, but this season Seth has a real chance to get his hands on the elusive Larry O'Brien trophy.
ADVERTISEMENT
Article continues below this ad