Jayson Tatum Gives a Shocking Revelation About Lakers That Won't Please Boston Celtics Fans
Published 12/22/2020, 1:22 AM EST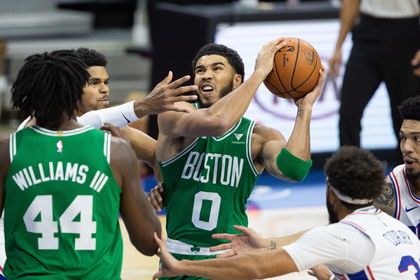 ---
---
The NBA players, or for that matter, any major league player has close to no say in drafts. Their fate depends on the lotteries and whoever gets to pick/trade them first. Unless the athletes go out of their way to share their hate for a team, almost any franchise can have them, and that's how the Boston Celtics picked Jayson Tatum in 2017.
ADVERTISEMENT
Article continues below this ad
When life gives you lemons, make lemonade. Perhaps this is what a 19-YO Jayson Tatum told himself when the Celtics drafted him overall third. As surprising as it gets, the C's were way down (or nowhere) on the list of favorite teams for a teenaged Jayson. 
Jayson Tatum reveals crazy details around his draft
ADVERTISEMENT
Article continues below this ad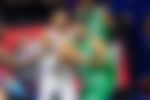 In a recent interview, Boston's best player left the Celtics fans scratching their heads. He had a grin on his face as he revealed his past feelings about joining the Greens. The young small forward exclaimed:
"My favorite player and my idol was Kobe and everybody know that. So, I didn't like the Celtics at all going up there. I only grew up, I was like, I'm gonna play for the Lakers. Honestly, I never knew what Boston was at. Like I knew only East Coast. But, I'd never been there, I never thought about going there. So, when I got drafted, it was kind of crazy. Like, I used to hate Celtics, and now, it worked out. Everything happen for a reason and I'm surely thankful to be here with this opportunity."
When Kobe Bryant was retiring in 2016, Tatum was playing for Duke University. In his freshman year, he played 29 games, averaging 16.8 points, 7.3 boards, and 2.1 assists. These figures impressed the NBA scouts, and sadly enough for a young Tatum, the Celtics scouts. 
That year, the Lakers chose Lonzo Ball (#2 pick) over Jayson and broke his heart. As a result, the C's got hold of him and the rest is history.
ADVERTISEMENT
Article continues below this ad
How did Taco Jay adjust with the Celtics and fair against the Lakers?
Jayson, in the first year itself, registered his powerful presence. The man also won an NBA All-star berth by playing for the Celtics. Each of his career figures, be it in points, assists, rebounds, steals, or blocks, they've all shown improvement in every consecutive year. Now, he won't regret being part of a team that has helped him grow quickly.
Today, he is counted as the sole reason the Celtics could reach the EC Finals. His leadership skills are improving as a result of that recognition. Had he been with the Lakers, chances were that he would be playing under the shadow of a star player like LeBron James. Also, this year in February, Tatum dropped his career-high 41 points against the Lakers itself.
ADVERTISEMENT
Article continues below this ad
His playoffs 2020 average of 25.7 points, 10 boards, and 5 assists is proof that he has also worked on his streaky shooting. Today, with players like Jaylen Brown, Tacko Fall, and others on his side, Tatum has a real chance to bring the Greens back to their former glory.