"I'm Gonna Tear This Whole Damn Studio Up": Shaquille O'Neal Warns "Eminem" and "Kanye East" of Dire Consequences
Published 12/04/2022, 12:10 PM EST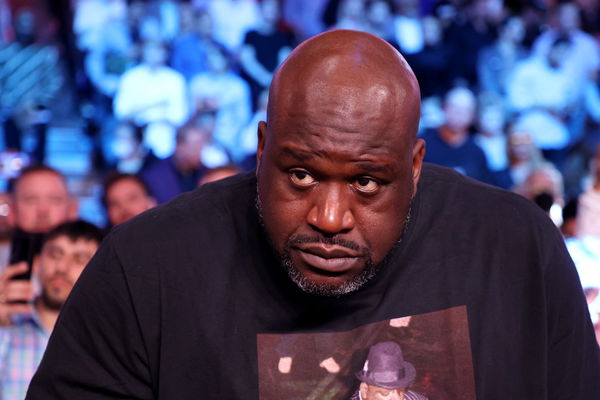 Shaquille O'Neal had a completely different energy during the recent episode of The Big Podcast. The Los Angeles Lakers legend seemed to be in a mood of demolishing everything that came in sight. Shaq made a shocking move while trying to prove his point. In addition, he also warned 'Eminem' and 'Kanye East' of dire consequences.
In the recent episode of Shaq's podcast, the four-time NBA champ and the co-hosts discussed various issues including Patrick Beverley & Deandre Ayton's scuffle during the game between the Los Angeles Lakers and the Phoenix Suns. O'Neal also gave his take on Ruby Gobbert's supportive comments toward his team Minnesota Timberwolves as well. However, the most hilarious moment of the episode was Shaquille O'Neal going all crazy just to prove a point.
ADVERTISEMENT
Article continues below this ad
Shaquille O'Neal calls himself a clown and breaks his chair
During the episode, co-host Nischelle Turner admitted to feeling emotional after watching the first episode of Shaq's docuseries. Turner pointed out that the Big Aristotle was vulnerable during the episode in a manner that she had never seen before. She reckoned that the episode gave her a better understanding of Shaq's relationship with his father Phillip A. Harrison.
Moreover, Turner claimed that Shaquille O'Neal was full of love in the documentary. However, Shaq took the discussion to the next level by claiming that people did not understand him because they took him seriously. O'Neal added, "How can you take a clown seriously? Think about it! How can you take a clown seriously?"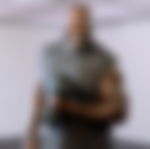 Soon after, the NBA Hall of Famer asked his crew to pan back the camera. After that the Big Diesel went into beast mode and claimed that he did not want to sit in his chair anymore. Just to prove his point, Shaq broke the massive thronelike chair he was sitting on, leaving Tuner and Spice Adams laughing hysterically. Eventually, the chair could not take Shaq's power and collapsed completely. The Big Diesel proclaimed that he would sit in the tilted chair the whole episode.
However, the 15-time All-Star took the banter to a completely different level by firing shots at 'Kanye East' and 'Slim Shady'. 
Shaq fires shots at 'Kanye East' and 'Slim Shady'
After Shaq, Spice Adams also tried to continue the banter by pretending to break his chair. Hilariously, the NFL veteran ended up actually breaking the chair leaving Shaq and Turner laughing their hearts out.
ADVERTISEMENT
Article continues below this ad
The whole fiasco led to a fiery comment from the Lakers legend. Shaquille O'Neal proclaimed emphatically, "If my chair ain't like this next week when I'm coming. I'm gonna tear this whole goddamn studio up. Do not touch my chair. I'm telling you now Kenny Rogers, Kanye East, Slim Shady, ZZ Top in the back."
Shaquille O'Neal warned his crew members not to touch his crooked chair. Shaq had actually renamed his crew members by the names of popular rappers like Kanye West, Eminem, and Kenny Rogers based on rough similarities in their appearances. And now it has turned into a running inside joke.
ADVERTISEMENT
Article continues below this ad
Watch This Story: $400 Million Rich Shaquille O'Neal Used Elvis Presley Marilyn Monroe and Playboy to Earn Millions 
What do you think of Shaq's hilarious antics on his set? Let us know in the comments below.
Edited By: Satagni Sikder