'I'm Like D**n'- When LeBron James, Dwyane Wade and Chris Bosh Raved About Steph Curry
Published 04/10/2021, 1:30 PM EDT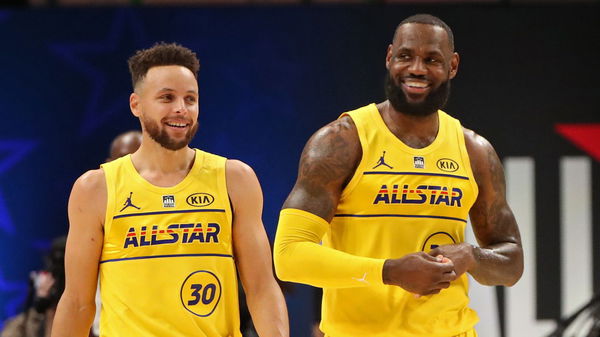 ---
---
Steph Curry is one of the greatest point guards in NBA history. However, he had a slow start to his career. Despite being drafted in 2009, it took a few years for Curry to emerge as a bonafide superstar. He had his issues with injuries and he got his start in a league that wasn't as three-point heavy as it is today. After all, the emergence of Curry is what made the league three-point heavy.
ADVERTISEMENT
Article continues below this ad
However, even before Curry started playing at MVP level, the scariest team in the league noticed him. The Miami Heat would go on to the 2014 NBA Finals and had won the two titles prior. But all three members of the 'Big 3' (LeBron James, Dwyane Wade, and Chris Bosh) were absolutely enamored with Curry after a game they played against each other in 2104.
ADVERTISEMENT
Article continues below this ad
"Step back threes. You gonna give my point guard three hesis? You're gonna go here, here and here again and then get him? I'm like d**n. Three hesis? Gave my point guard three hesis? The hell you trying to do?"
Wade even refers to Curry as a 'bad man'. LeBron looks like he is genuinely stunned at how Curry was playing his team. In the two games Curry played against Miami in 2014, Curry averaged 32.5 points each game. Both teams took a win each, so Curry made a massive impression on them.
Steph Curry: LeBron James foreshadowing their rivalry?
ADVERTISEMENT
Article continues below this ad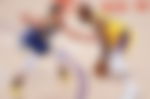 Steph Curry would not become LeBron James's main adversary when LBJ was still in Miami. The year that he returned to Cleveland was the year Curry truly emerged and would win MVP. In the 2015 NBA Finals, Curry would ruin LeBron's Cleveland homecoming by denying them the title. While Andre Iguodala won Finals MVP, everyone knew Curry was the man behind the win.
ADVERTISEMENT
Article continues below this ad
LeBron would get Curry back by overcoming a 3-1 deficit to become the champion in the 2016 Finals. However, the scales would forever be titled in Steph's favor after Kevin Durant signed with them in 2016. Curry and the Warriors would win two easy titles led by KD, and it seems LeBron and Curry are on good terms now. But that moment in 2014 foreshadowed the rivalry that was to come for the next 5 years.
Trending Stories