'I'm Not Michael Jordan': Giannis Antetokounmpo Rejects the Comparison Between His and Jordan's 1993 Finals Run
Published 07/12/2021, 1:02 AM EDT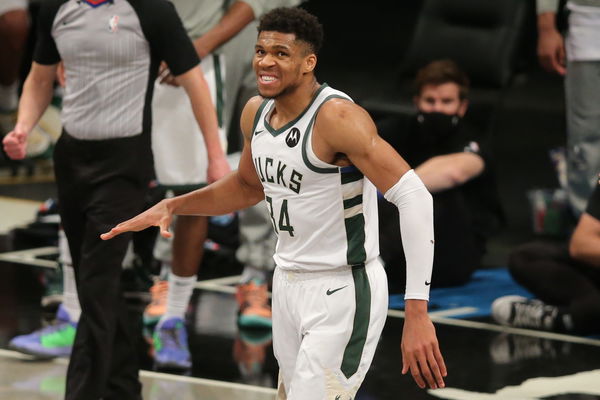 ---
---
Giannis Antetokounmpo is rewriting history for the Milwaukee Bucks, the one that legendary Kareem Abdul-Jabbar left in the middle. Facing a very dangerous and arguably better Phoenix Suns in NBA Finals 2021, it is the champion's mindset that is helping him fight the odds. 
ADVERTISEMENT
Article continues below this ad
The Bucks, after taking a 0-2 humiliation, finally bounced back as they impressively defeated the Suns in Game 3. In all the three games, the one performer that remained the most consistent was Giannis. The Freak is having a dream run in the postseason, good enough that he is now attracting legit comparisons with Michael Jordan in his prime.
ADVERTISEMENT
Article continues below this ad
Giannis Antetokounmpo doing it the Michael Jordan way
During the 1993 NBA Finals, the Suns started their journey just as the Bucks did against the 2021 Phoenix side, with two losses. But there were many other similarities in both the finals and those include Michael Jordan and Giannis Antetokounmpo.
In Game 2, the Greek Freak's 42-point effort went in waste as the Bucks lost the game. Similarly, MJ's 44 points in Game 3 (1993) were not enough to save them against Charles Barkley's Suns. However, it was Air Jordan's four back-to-back 40+ games that eventually kept them in the lead.
In the postgame interview, a reporter asked Giannis whether he can repeat that streak in this series. The wise, laid back, and down-to-earth Giannis had this to add, "I'm not Michael Jordan. Four 40 points in a… straight too? [visibly shocked] No, I'm not Michael Jordan. But all I care about right now, it's getting one more. Just taking our pieces, doing our job."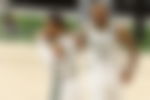 Can the Greek Freak produce one such performance?
Well, Michael Jordan, in that series, was extraterrestrial. The arguable GOAT had scored his playoff-high 55 points in Game 4 to help the Bulls go 3-1. Now, he had his help in Scottie Pippen and Steve Kerr and that went a long way with his success. For Giannis, it is Khris Middleton and Jrue Holiday, but they're still not as consistently effective. 
However, considering that Giannis has forced these performances coming out of a hyperextended knee injury makes a great case for him. Additionally, he had already collected multiple 40-point games against the scary Brooklyn Nets this season, further helping his odds. Remember those 49 points in the Bucks' 117-114 win in the Fiserv Forum?
ADVERTISEMENT
Article continues below this ad
So yes, with an improvement in his jump shots and the accuracy in his paint game, the Freak certainly has in him what it takes to reach multiple 40-point nights. Can he do it against the defensively strong Suns? Well, one can not discard the high probability. 
ADVERTISEMENT
Article continues below this ad
Watch this story – Giannis Antetokounmpo's Historic Performance in Game 2 vs Phoenix Suns