"I'm Sorry for the Embarassment..I Wasted It": Michael Jordan on Repaying His Gambling Losses to Ex Wife Juanita Before 1993 National Controversy
Published 12/16/2022, 12:30 PM EST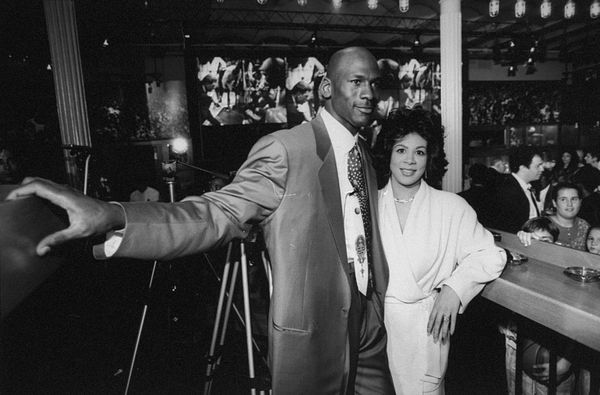 There were very few blemishes on Michael Jordan and his legendary career. But probably the biggest one may have been the gambling problems that came to the limelight during the height of Jordan's playing days. But before the massive controversy broke out in 1993, Jordan had to deal with his then-wife Juanita by repaying the gambling losses to her. Hir Airness once addressed the intriguing situation in an interview.
The biggest controversy that Jordan faced in the 90s was his gambling problems. Reports suggested that Jordan was addicted to gambling and he wagered hundreds of thousands of dollars. Apparently, Jordan would bet on anything basketball, golf, poker, and so on. There were even rumors which suggested that the main reason why Jordan left the NBA in 1993 was his gambling problems and not the controversial and shocking demise of his father. However, MJ always maintained that he didn't have a gambling addiction.
ADVERTISEMENT
Article continues below this ad
Michael Jordan always made sure he paid his wife every time he lost money
At the height of his troubles, rumors came out that Michael Jordan had massive gambling debts. He reportedly had to pay a few convicts as well. At the same time, Jordan did an interview with Connie Chung, where he talked about his life on and off the court. She also asked about his gambling problems.
During the interview, Jordan claimed that he would easily give up gambling if it jeopardized his family, their future, or their financial safety. The Chicago Bulls legend also said, "Whatever I have lost… The 108, the 55, or whatever I have lost, I have always given it back to my wife."
"So whatever check I make, here honey. I'm sorry for the embarrassment, I'm sorry for what I have caused. Here take it, do what you have to do with it, I wasted it. So this is yours," he added.
ADVERTISEMENT
Article continues below this ad
Jordan said that he was not an addict because he was responsible and ensured that he did not cause huge losses to himself or his family. He made sure that his wife knew about what he was going through and made sure that he always took care of the family.
WATCH THIS STORY: Breaking 35 year old record 207 million star Luka Doncic joins Michael Jordan following historic NBA performance
ADVERTISEMENT
Article continues below this ad
As it turns out, Jordan gambles even to this day. And that has not stopped him from amassing a staggering net worth of $1.7 billion. Jordan is the ultimate competitor and gambling is merely an outward expression of his competitive edge.
What is your opinion on Michael Jordan's gambling issues? Let us know in the comments below.
Edited By: Satagni Sikder