'I'm Sorry'- Hall of Famer Shaquille O'Neal Explains Why He Took a Dig at Jazz Star Donovan Mitchell
Published 04/30/2021, 3:30 PM EDT ---
---
Donovan Mitchell is one of the brightest young stars in the NBA. While he is currently injured, Mitchell has been the driver behind the Utah Jazz's current romp over the NBA. The Jazz have held the best record in the league for a few months now, and it is all due to the efforts of Spida and Rudy Gobert.
ADVERTISEMENT
Article continues below this ad
Shaquille O'Neal has been critical of the Jazz stars, getting into it with Mitchell during a post-game interview early in the season. That started a major controversy, as Mitchell didn't take Shaq's comments in a positive light. However, Shaq has addressed the situation and apologized for hurting Mitchell's feelings.
ADVERTISEMENT
Article continues below this ad
"Donovan and I'm sorry I hurt his feelings, but I was just testing his temperature. When I say 'hey man, I don't know if you got what it takes', I want him to be like 'okay, old man watch this.' But he's doing that and showing us now that. But of course with the internet, people take it far. What I was saying was that you can be good, but when it come playoff time, you gotta get to the next level. We all had to go through it."
Donovan Mitchell: Proving doubters wrong?
Donovan Mitchell has been amazing this year. He has averaged a career-high 26.4 points a game while having his most efficient three-point shooting season. Mitchell has led the way for the Jazz to do magnificent things on the offensive end of the ball.
ADVERTISEMENT
Article continues below this ad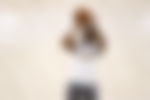 But the major battle for Mitchell's legacy will come in the post-season. Despite getting one of the all-time highest-scoring averages in NBA Playoffs history, Mitchell is not given his due as a clutch player. That is because while he was setting scoring records, his Jazz blew a 3-1 lead over the Denver Nuggets.
ADVERTISEMENT
Article continues below this ad
The Jazz have to fare better this year. They will either go into the playoffs as the #1 or #2 seed, so their first-round series should match them up with an inferior opponent. Hopefully, it goes better than last year's first-round exit.