'I'm Very Unselfish': James Harden Praises Himself upon the Successful Brooklyn Nets Return
Published 05/13/2021, 1:49 AM EDT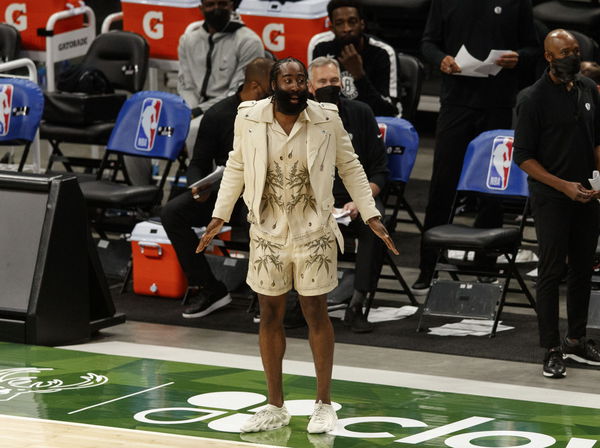 ---
---
Brooklyn Nets are now 1.5 games behind the Sixers if they're to top the EC this season. Even if that does not happen, just staying at #2 with their Big Three having played only seven games together is an achievement. 
ADVERTISEMENT
Article continues below this ad
Initially, when James Harden was yet to join the team and Kyrie Irving was missing games for no plausible reasons, it was Kevin Durant who had held the team together. Then on, it was the camaraderie between The Beard and Ky that kept the Nets going during mid-season. And now, KD and Harden must give the closing touch before they hit the postseason.
James Harden made a confident comeback for Brooklyn Nets
ADVERTISEMENT
Article continues below this ad
The Beard is certainly one of those rare athletes who care less about criticism because their self-belief is too strong. When James Harden injured his hamstring and stood out for 18 games, analysts believed it would take him some time to regain the lost momentum. However, the 9x All-Star came back with a bang against the Spurs and enjoyed a game-winning night. 
The Jimbo Slice scored 18 points, 7 boards, 11 assists, 2 steals, and 2 blocks in an all-around 26-minute performance. His 75% shooting from the deep range further showed that the 1.5 months' long break did nothing but good to his rejuvenated self.
In the post-game conference, the 31-YO basked in self-confidence and blew his own trumpet by claiming, "Not to like brag, but I'm like really, really good at this game. I study the game, I'm very unselfish, I take the game, and I play it the right way every single night. [indiscernible] anything that I can't do or anything that doesn't benefit our team… that keeps me in a really good place…"
Read Also – Former NBA Star Reveals Tension between LeBron James, Kyrie Irving, and Teammates in Cleveland
ADVERTISEMENT
Article continues below this ad
Is The Beard still in the MVP conversation?
The answer to this question would have been a clear yes had Harden not injured himself. However, since the time the 3x scoring champion himself claimed his candidacy for the award, things have changed. Today, more than him, Steph Curry deserves his name on the contention list that is still under the grabs of Nikola Jokic. 
ADVERTISEMENT
Article continues below this ad
But recently, an NBA analyst raised eyebrows by picking James Harden over the all-time triple-double leader Russell Westbrook. Sportscaster Max Kellerman counted James as a better point guard than Russ and received a mocking from Kendrick Perkins. The two former teammates are certainly on top of their games, but the individual success of Westbrook is well above Harden in this season.
Well, that being said, it would have been so interesting to see the Nets meeting the Wizards in the first-round clash. Do you see that happening? Help us know in the comments.