"In Powerful Trouble": NBA Analyst Makes a Bold Claim Against LeBron James Following James Harden's Trade to Brooklyn Nets
Published 01/14/2021, 11:25 AM EST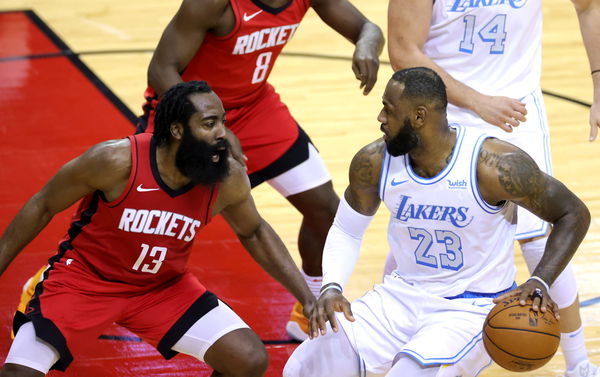 ---
---
The much-awaited blockbuster trade has shaken the NBA and its fans. After pulling so many antics, James Harden finally got exactly what he wanted. Nobody had expected the Houston Rockets to cave in mid-season, but the previous game changed their perception. It looked like they wanted some time to convince him to stay, but they realized Harden would not budge. In fact, the popular opinion now is that this changes a lot for LeBron James' Los Angeles Lakers. Let's find out why.
ADVERTISEMENT
Article continues below this ad
James Harden teamed up with Kevin Durant
Harden had shown utter resentment for the Houston Rockets. After another disappointing exit last season, he wanted an out and the Brooklyn Nets was always his first choice. However, the Rockets were waiting on the best deal possible to trade him, but his patience didn't last very long.
ADVERTISEMENT
Article continues below this ad
Not showing up for training camp, breaking league rules, not playing wholeheartedly, were all antics he resorted to. Now that the deal is done, the team that looks most in trouble is the Lakers. Is it possible that their shot at a second consecutive championship looks bleak now? Well, NBA Analyst Skip Bayless thinks so.
LeBron James should forget about the championship
The Rockets had exited the bubble after the Lakers crushed them last season. And now, Harden is playing with his former teammate, Kevin Durant. Together they had led OKC to the 2012 NBA Finals. Who knows what the two can accomplish together once again?
On Undisputed, Bayless showed his joy on hearing the news of this trade. He made bold claims and stated, "I believe, that by outbidding the Philadelphia 76ers for James Harden, the unbelievable Brooklyn Nets are going to win a championship this year, or next year or maybe both. The window is open for 2 years.
"I am here to tell you right now, your man, LeBron James is in powerful trouble. I don't think LeBron will ever win another championship unless they can close this deal this year."
ADVERTISEMENT
Article continues below this ad
"Say goodnight, LeBron. Now the NBA is nothing but Nets," concluded Skip. These are some harsh comments from Skip, but we all know him to be James' arch-nemesis. Will Bayless' prediction hold true? Or is will this be another failure for James Harden?
ADVERTISEMENT
Article continues below this ad