Incensed Shaquille O'Neal Insults 7 Ft African Legend Who Had Called Out Michael Jordan
Published 05/19/2022, 1:30 PM EDT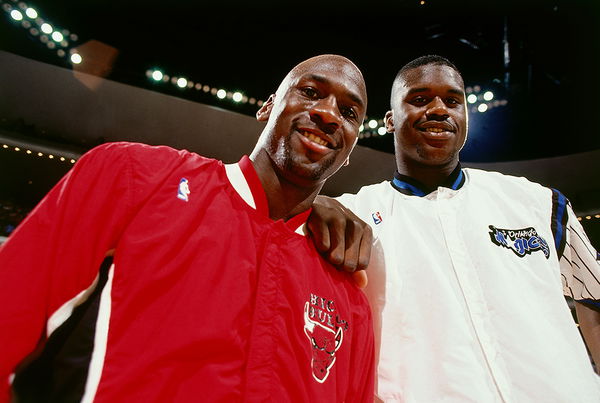 Shaquille O'Neal was known for his dominance in the paint. Shaq was a beast, standing at 7 feet tall and weighing 300 pounds. He would destroy his opponents in the post. Being an all-time player, Shaq goes around reminding other retired players of their place.
Shaq never let anyone one-up him in a game. His friend, Chuck, has never won a championship, and O'Neal is quick to point that out whenever both argue. Quite recently he reminded Chuck of his legendary Finals performance versus a defensive player of the year.
After Michael Jordan put Dikembe on a poster, Shaq dominated him in the Finals
ADVERTISEMENT
Article continues below this ad
Dikembe Mutombo was one of the best centers of the 90s. Though he did not win any championships, he was inducted into the Hall of Fame. Mutombo was a great rim protector, but not great enough to block the GOAT himself. When Dikembe reminded Mutombo that he had never dunked on him, Michael took it personally. Weeks after he called out Michael, Mount Mutombo was put on a poster.
But this beating was not it. Before game 1 of the West Finals, Shaq reminded Chuck of his finals series against Mutombo. Shaq and the Lakers took on the Sixers in the 2001 Finals.  O'Neal went all out, putting up 33 points and 15 rebounds a game. This was all done while Mount Mutombo tried his best to stop the Diesel.
ADVERTISEMENT
Article continues below this ad
Shaq destroyed the DPOY in the Finals
Not only that, but Dikembe was also awarded the defensive player of the year award that season. Shaq was quick to point out his performance versus Mutombo when Chuck said that it would be harder to play against the DPOY for Jimmy Butler. Shaq, being furious, said, "You better look at my Finals against Dikembe Mutombo."
ADVERTISEMENT
Article continues below this ad
Chuck should've known this, but was reminded by Shaq in a surprise. Dikembe is one of the all-time centers in NBA history, but against Shaq, he didn't stand a chance. While Shaq always brings up his 4 rings, Chuck often has no proper reply to that.
WATCH THIS STORY: "Michael Jordan Played Plumbers" Believers Get Harsh Reality Check in Eye Opener for LeBron James Fans
Edited By: Ajinkya Aswale