Injury Update: Brooklyn Nets' Kevin Durant Was Clueless About the Severity of His Injury
Published 04/01/2021, 11:31 PM EDT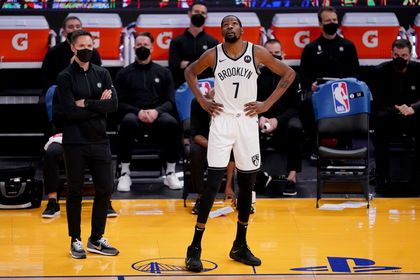 ---
---
It has been quite a while since the world last saw Kevin Durant taking those accurate mid-range jumpers. Brooklyn Nets might be doing well even without him, but it is important for KD to play a decent number of regular-season games to stay in tune for the postseason.
ADVERTISEMENT
Article continues below this ad
Still, his injury woes are not ready to call it quits. The 11x NBA All-Star first tore his Achilles during the NBA Finals 2019 and then made a coveted return after some 550 days of rehab. As of now, he is serving the seventh week of absence and the updates on his injury are still quite perplexing.
Kevin Durant and his miscalculation of the injury status
ADVERTISEMENT
Article continues below this ad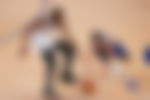 KD last showed up in the game against the Warriors that they won 134-117 and where the 6'10" forward scored 20 points. The hamstring strain then sidelined him and currently, it is 20 games and counting since he last played. 
In a fresh development, it now appears that the Slim Reaper will soon be back on the court. However, in another news, an ignorant side of KD surfaced where he downplayed the injury in his mind. Take a look at this tweet from The Athletic's Alex Schiffer – 
Kevin Durant said he thought his hamstring strain was a Grade 1 and that he could play and then saw the scan and realized it was a little deeper than he thought.

— Alex Schiffer (@Alex__Schiffer) April 1, 2021
Reportedly, the scans of his recent injury showed a scary picture with more bleeding than expected. Naturally, the Nets would not risk a rushed comeback because they would rather have him out for another week than expose him to a worse injury. So, it can't be said whether he will play the Lakers on April 10th, but he might play the Sixers on April 14th.
Read Also – James Harden Injury: What is the Nets Star Suffering From and When Will He Return?
Brooklyn Nets forward is battling two issues at a time
The Nets are in a comfortable 34-15 situation where they are finally sitting on the top of EC. This has kept KD's recovery in a much better position than LeBron James' recovery because his side is not doing as good.
Still, KD has his own demons to fight. One, the injury, and two, the Michael Rapaport saga that exposed his personal chats for the world to see and pass judgment.
ADVERTISEMENT
Article continues below this ad
In a recent interview, the 32-YO veteran expressed, "I'm sorry that people have seen that language I've used. It's not really what I want people to see and hear from me. But hopefully, I can move past it and get back on the floor."
Well, apart from sparking a controversy, he has also gained new fans who like the normalcy that his social media responses project. KD is as human as anyone can get. Just like us, he did not see anything major with his injury, and just like us, he retaliated against someone putting criticism on his name. 
ADVERTISEMENT
Article continues below this ad
Does all of this make you a greater fan of Kevin Durant? Help us know in the comments.