OPINION: Is Luka Doncic Destined to be the Next Face of NBA After LeBron James?
Published 06/06/2021, 6:22 PM EDT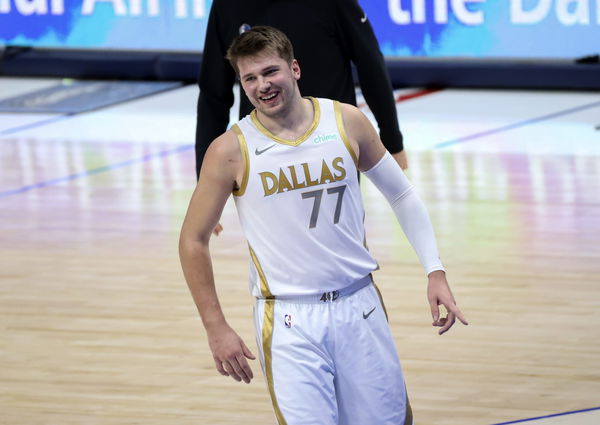 ---
---
Luka Doncic is arguably one is the best young players in the league. Drafted in the 2018 draft class, the Slovenian has been a walking bucket ever since he made his debut in the NBA.
ADVERTISEMENT
Article continues below this ad
Coming off of a fabulous season in the Euroleague, many doubted whether the former Real Madrid guard could translate his Euroleague success in the NBA. Playing in his third season, the 21-year-old has certainly made his mark in the league. Clearly the best player in the Dallas Mavericks, Doncic has led his team to two playoff appearances already.
ADVERTISEMENT
Article continues below this ad
Given his all-round repertoire, the Mavs guard has been compared to his idol LeBron James. While he might not have LBJ's athleticism, Doncic has multiple similarities to the King especially his vision and passing.
Is Luka Doncic the next face of the NBA after LeBron James?
There is no doubt that LeBron James is the biggest name in the NBA. Playing for one of the biggest teams in the league in the Los Angeles Lakers, King James is certainly the face off the league.
While he still pretty much unstoppable, LBJ has already played 18 seasons in the league. Arguably the longest prime, James is the biggest draw for the league. But over the last few years, LeBron has suffered from multiple injuries.
Be it 2018's groin injury or this season's high ankle sprain, LBJ might start to slow down in the near future. Given the limited time the 36-year-old might have, the NBA has to look for a new face.
ADVERTISEMENT
Article continues below this ad
While there are multiple young talented players in the league, Doncic might be the best player to become the face of the NBA. Despite being only a 22-year-old, Luka has showcased his talents all across the board.
Averaging monstrous numbers like 25.7 points, 7.7 assists, and 8.4 rebounds per game, the Slovenian is arguably the most talented young players in the league. Given his monstrous numbers, the 22-year-old is already in MVP conversations.
ADVERTISEMENT
Article continues below this ad
Considering the numbers of years remaining in his career, it is absolutely scary to imagine how Doncic will perform once he hits his prime. Apart from his visible basketball talent, Doncic also attracts many international audiences as well.
Given how global the game has become over the years, the 2-time All-Star can help the league reach new audiences as well. With the talent he has shown in the league already, Doncic undoubtedly should be the next face of the NBA.