'Is He Ready to Sacrifice?': Knicks Legend Charles Oakley Raises Concerns About Lakers' Andre Drummond
Published 04/07/2021, 2:21 AM EDT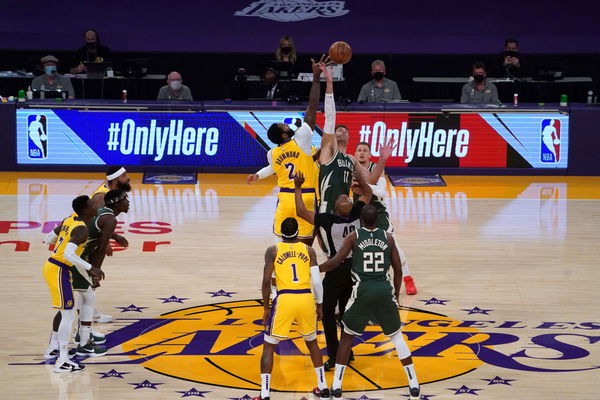 ---
---
The champions, the Los Angeles Lakers, might not have made any moves in the trade market, but they had an absolute blast in the buyout market. While the Lakers did make some solid moves in the off-season, it was clear from the get-go that they were missing a dominant rim-protector and rebounder.
With two of their veterans in Dwight Howard and JaVale McGee gone, the champions knew that they had to address this issue. Enter 2-time All-Star Andre Drummond. The 27-year-old certainly ticks all the boxes and on-paper is the answer to Lakers' biggest problems – rim-protection and rebounding.
The former Pistons' center has played only a single game for LA as of now and has already unfortunately suffered a toe contusion. Given that this is a minor injury, he might be back for the next game against the Raptors.
Knicks legend Charles Oakley raises concerns over Drummond fitting in with the Lakers
While Drummond is a big addition to the roster, he still hasn't played with superstars LeBron James and Anthony Davis. Without the duo, Drummond will get multiple minutes in the regular season. But that surely won't be the case when the stars are back.
Knicks legend Charles Oakley recently made an appearance on the 3 League OGs podcast. There, the 1993-94 All-Star raised similar concerns about the big man.
Oakley said, "I think they got the best player available, but can he play with the Lakers? He's the guy who wants the ball in the post like Dwight Howard did for many years, but you get him the ball on the post, he can't make you a free throw. So he is gonna have to go from playing 37 minutes down to about 24-25. Is he ready to sacrifice? He been on teams where he never did sacrifice, but LeBron had changed a lot of guys over the years."
Oakley added, "They got the best player available. Can he sustain that with the Lakers and move forward and settle in for 20 minutes a night, sometimes 25. They're gonna play AD late game at the five stretch to the floor and do different things. So we give Lakers the edge right now…Drummond is the key."
The 57-year-old certainly makes a solid point about the big man. But given that Drummond accepted a role on a championship team, he would have been mentally prepared to see a major drop in his playtime.
But the 27-year-old can be crucial in the initial part of the game. With his insane rebounding and decent shot-blocking skills, the 2-time All-Star can restrict the opposition's scoring.
Drummond can be a key piece in the Lakers' post-season. Can he help LeBron and AD retain the championship?