Is the Brooklyn Nets' Depth Their Strongest Weapon?
Published 12/22/2020, 9:09 PM EST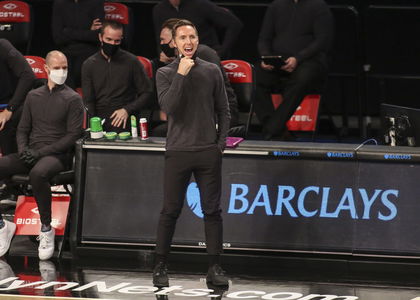 ---
---
At this moment, the Brooklyn Nets are looking like championship contenders. This is no surprise given how much hype was behind their team ahead of the start of the NBA season.
ADVERTISEMENT
Article continues below this ad
The dynamic tandem of Kyrie Irving and Kevin Durant were all set to debut on the opening night of the new NBA season. To make things better, Durant's first official game back was against the Golden State Warriors.
At this point, the Nets have trounced the Golden State Warriors, and have put on a show. Kyrie Irving put on a show, getting 24 points and 2 assist in the first half alone. Kyrie did not look like he was capable of missing shots, going 9 for 13.
ADVERTISEMENT
Article continues below this ad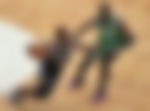 While Kevin Durant has looked a little reserved, he still posted an impressive 12 points in the first half. One can only imagine how dangerous KD will be once he gets into his full groove.
But so far, the one thing that has stood out for the Brooklyn Nets is their depth. Despite having two of the most naturally gifted scorers in the league, there are several scoring options available for the Nets, and players who can fulfill other roles on the team.
Brooklyn Nets have great depth
Spencer Dinwiddie, Caris LeVert, Jarrett Allen, Joe Harris, and DeAndre Jordan have been putting away many of their opportunities and forcing the Warriors' offense into several uncomfortable positions.
ADVERTISEMENT
Article continues below this ad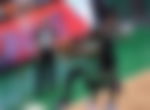 The one thing that stood out in the Nets' performances was how well they defended. The Nets kept Steph Curry quiet for most of the game. Historically, that has proven a challenge for many teams in the NBA. Curry did not get the usual looks he gets from beyond the arc.
While it is very early days, the Nets' performance needs to be applauded. It can be easy to become complacent when you have two of the best players in the NBA on your team. But the other players have stepped up big time and put away most of their chances.
ADVERTISEMENT
Article continues below this ad
If the Nets can continue their opening night momentum across the NBA season, they may be favorites to reach the NBA Finals from the Eastern Conference.