Isiah Thomas Speaks About How Insanely Competitive He & Michael Jordan Were
Published 07/22/2021, 10:02 PM EDT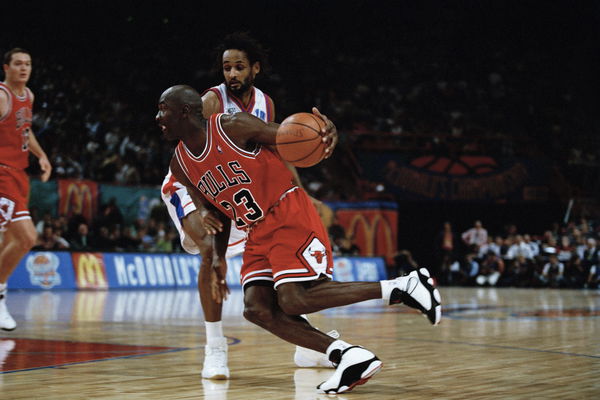 ---
---
Michael Jordan is arguably one of the best ever to play the game of basketball. While his skills to score the basketball and also lock down the opposing team's best players played a huge role in his success, Jordan's driving force was his insane competitiveness.
The 5-time MVP often took it upon himself to defeat other rivals and teams. This certainly brought the best out of Jordan who ended up having a career with a whooping total of 6 NBA championships, 5 MVP trophies, 14 All-Star appearances and made him arguably the GOAT of basketball.
Isiah Thomas speaks reveals insane competitiveness of Michael Jordan
The Chicago Bulls and the Detroit Pistons have had a rough history between them. Especially the two superstars Isiah Thomas and Michael Jordan do not have a friendly relationship. This was well documented in the series called 'the Last Dance' based on Bulls' incredible run in the 90s.
Thomas who had his fair share of battles with 'His Airness' recently spoke about how competitive his rival was. "After Jordan won his third championship, they interviewed him and you can go back and listen what he said was because we were all competitive and competing again against each other he said, 'Now I've done something that magic and Isaiah didn't do, I three peated.'"
Thomas later added how he and Jordan were similar and wanted to dominate the era. "That's how insane we were about winning but not only winning but dominating. I just didn't want to win it was like I wanted to dominate my era at that position and and we did."
Thomas and Jordan certainly left their mark on the game. While Jordan showed that a shooting-guard can dominate the league, Isiah Thomas showed that size didn't matter in the NBA.
They might be bitter rivals in the 90s, but the battles between the bad-boy Pistons and Jordan were a thing to behold. Not only did the games have some rough physical defense, Jordan also put up his own offensive masterclass and carried the Bulls.
The Bulls might dislike the Pistons, but if not for Isiah Thomas and Co., we might not have seen a Bulls' team dominate a whole decade. Which rivalry do you think can have a similar impact in the game?