'It Was Cool to Be in His World': Kevin Durant Opens Up About Shooting Music Video Alongside Rapper Drake
Published 05/08/2021, 10:30 AM EDT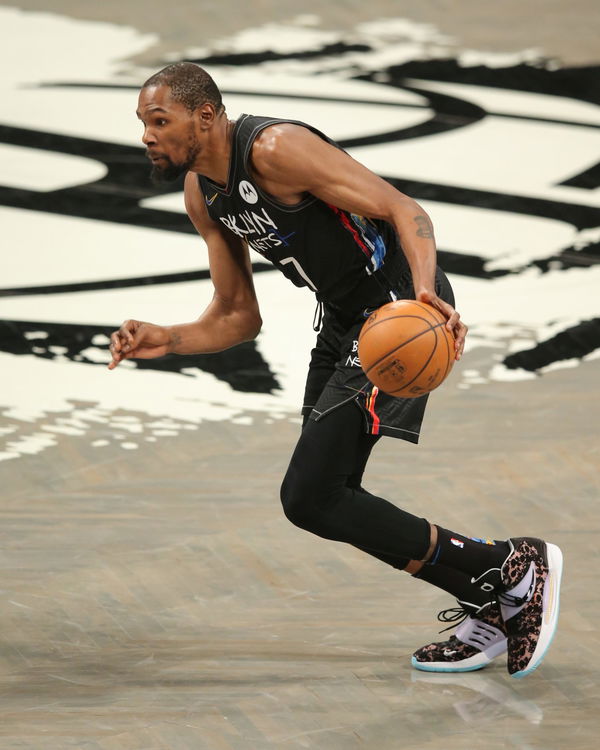 ---
---
Kevin Durant is arguably one of the best scorers the NBA has ever seen. Given his immense talent, KD is understandably one of the biggest faces in the NBA. Coming back from a gruesome Achilles injury, Durant is back playing some of his best basketball with the Brooklyn Nets.
Just like the Dubs, the 32-year-old has an able star cast around him, with superstars like Kyrie Irving and James Harden. With a rather loaded roster, KD and the Nets are one of the biggest favorites to win the NBA championship this season.
Kevin Durant reveals how he felt working alongside Drake
Being one of the best players in the league has its own perks. For Durant, it's been the same. From having his own signature shoe with Nike to featuring in multiple songs, KD has done it all. But one of the biggest music videos Durant made an appearance in was the Drake's 'Laugh Now, Cry Later'.
The Canadian rapper's video was an instant hit and had some of the biggest names in sports in Odell Beckham Jr and Marshawn Lynch making appearances in the same. The 32-year-old recently spoke about the video. In an appearance at the Sneaker Game show, Durant revealed how he felt working alongside Drake.
"It was a trip. I got the call in like a day's notice like, 'you want to do this video with Drake?' I was like, 'I mean Drake of course.' So I flew into Portland that day and like you said was there all night and we were just shooting around while they were filming and it felt like we were you know it wasn't like a stage thing.
"We just hooping playing and they filmed everything, and he started rapping on the sides I was shooting around so it felt it didn't feel like it felt natural."
"But to see the other sides of you know somebody that huge you know a brand that big to see his side of things see how he operates was uh it was cool to be in his world a bit. They work as extremely hard just like we do."
Drake who is a Raptors fanatic is also a big fan of Durant. With the league's ever-increasing popularity, it's only a matter of time before we see another superstar in a music video.
ADVERTISEMENT
Article continues below this ad