"It was Like Watching a Killer on the Court": The Dark Back Story behind Michael Jordan's Famous 'Shrug Game'
Published 07/05/2021, 1:30 PM EDT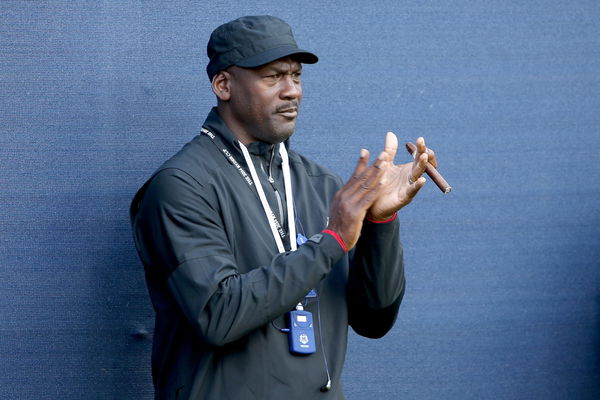 ---
---
When the conversation for greatest of all time comes up, fans often think of Michael Jordan. Michael Jordan was one of the most terrorizing figures on the court. There was no weakness in his game, and all he ever knew was how to win.
ADVERTISEMENT
Article continues below this ad
Michael Jordan was willing to do anything to win. Hence, he had a perfect record of 6/6 in the finals. 'Air Mike' has had many players who believed they could stop him, but he proved each and every one of them wrong. The competitive spirit of MJ is a legend in itself. All he ever needed was that little motivation to go and absolutely humiliate a player. Notably, one of these players was Trail Blazers' Clyde Drexler. When Michael Jordan knew that people thought there was a player who could challenge him, he would target that player to show everyone who is better. And Drexler became his prey in the process.
ADVERTISEMENT
Article continues below this ad
Michael Jordan goes after Clyde Drexler
The Portland Trail Blazers made it to the finals in 1992 where they would meet Michael Jordan and the Bulls. At the time, Clyde Drexler was in the conversation for the best player in the league, and Michael Jordan took this personally. This is summed up perfectly in David Halberstam's book Playing for Keeps: Michael Jordan and the World He Made. In the book, Halberstam wrote:
"But of course, it was intensely personal for him, the perfect challenge for a man who always wanted and always need challenges, and he used all the comparisons with Drexler, all those nonbelievers who thought Drexler as good as he was, to motivate himself. He set out to do nothing less than destroy, not just Portland, but Drexler as well…"
In Game 1 of these finals, MJ hit 6 three-pointers in the first half of the game. He set a record for most points in an NBA final at halftime with 35. In addition, Clyde Drexler chose to give Jordan the outside in that game, and MJ torched them with six threes in a row. Jordan was not a particularly great shooter, but when it was personal, there was no stopping Michael Jordan. This was termed the famous 'Shrug game'.
From this point on, Michael Jordan made it a mission to not only destroy Portland but also Clyde Drexler.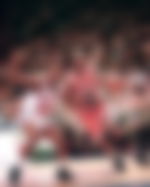 Michael Jordan targets Drexler
Michael Jordan swallowed Drexler in the 1992 finals series. On the offense, he was going off, and on the defensive end, he barely let Drexler touch the ball. As the book says:
"Later, Danny Ainge, who was Drexler's Portland teammate that year, said that there was a certain inhumanity to what took place on the court in that series. Drexler chose to give Jordan the outside shot in the beginning and Jordan hit six threes in a row … When the Trail Blazers had the ball, Ainge thought, it was as if Jordan had a terrible personal vendetta against Drexler.
"If it was not personal, it most certainly looked that way. Jordan barely let Drexler touch the ball on offense. Ainge sensed that it was as if Jordan had taken all those newspaper articles and television stories about Drexler as nothing less than a personal insult. It was like watching a killer on the court, he decided, "an assassin who comes to kill you then cut your heart out."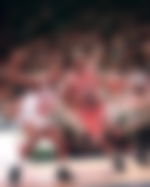 Jordan continued trash-talking Drexler in the Dream Team scrimmages. It wasn't until fellow teammates told Jordan to take it down a notch because here they are teammates. However, in scrimmages, while guarding Drexler, Jordan upped his defensive intensity every time. Jordan was clearly the better player, but he wanted everyone to see that he was the best out of everyone.
Bulls vs Trailblazers 1992 Finals
ADVERTISEMENT
Article continues below this ad
The Chicago Bulls defeated Portland Trail Blazers in six games. Unsurprisingly, it was Michael Jordan who won Finals MVP. Jordan dominated as he averaged 35.8/4.8/6.5 for the series. Scottie Pippen also put up 20 points per game. On the other, the Trail Blazer's best player was Clyde Drexler.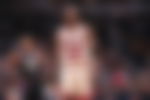 This was Jordan's 2nd straight championship. The Bulls went on to win another one the following year, completing their first 3 peat. MJ and the Bulls won 6 championships in 8 years and solidified themselves as one of the greatest sports dynasties ever.
ADVERTISEMENT
Article continues below this ad
WATCH THIS STORY-  Michael Jordan's Greatest Signature Moves: Jimmy Butler, Luka Doncic, and Other NBA Stars Emulating the Bulls Legend in 2021
Trending Stories